4 Ways to Make the Most of Your Unplanned Pregnancy
How to Accept Your Situation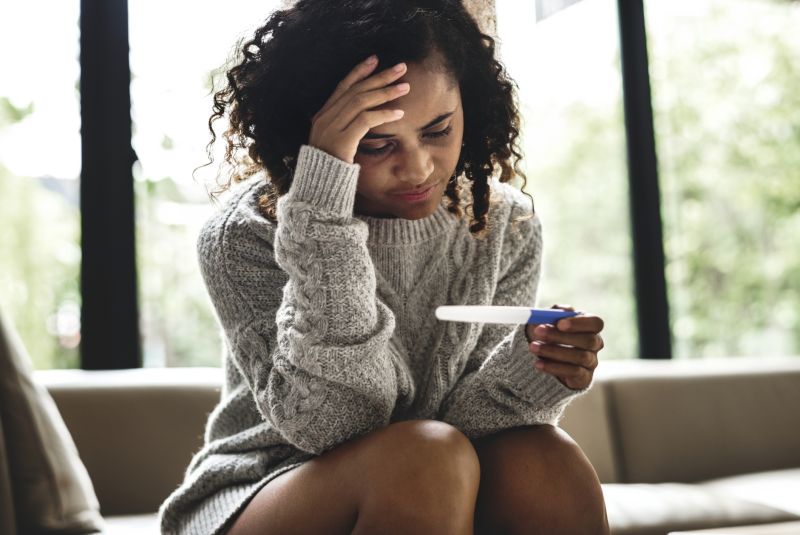 As its name suggests, an unplanned pregnancy isn't exactly what anyone has in mind. We enjoy sticking to our plans, but when you're unexpectedly pregnant, this can complicate matters. Fortunately, you are not alone, and we can help.
We understand if you're feeling overwhelmed. Unplanned pregnancy is not a simple path by any means, but it's something that you can learn to make the most of. Although it is an emotional journey, American Adoptions of Arizona can help you come to terms with and accept your unplanned pregnancy.
That's why we've put together this guide on four ways to make the most of your unplanned pregnancy. Dealing with unplanned pregnancy in Arizona looks different for everyone, but there are some general steps you can take when it comes to accepting an unplanned pregnancy.
If you have any questions while you're reading along, then please don't hesitate to call us at 1-800-ADOPTION at any time. You'll speak with one of our trusted professionals, and you can get more free information now. In the meantime, continue reading to learn more about coming to terms with unplanned pregnancy.
1. Accept Your Emotions
If you're reading this article, then you are probably wondering how to accept an unplanned pregnancy in Arizona. But, the truth is that you don't need to know how to do this right away. It's common for people to experience complicated emotions when they discover their unplanned pregnancy.
Whatever you're feeling, it's OK. There's no "right" way to feel. Giving yourself the space to accept where you are — with no judgement or shame — is an important first step.
At American Adoptions, we provide free, 24/7 counseling that should help you process these complex feelings. We want you to know that you are not alone, and help is always available to you whenever you need it. Call us at 1-800-ADOPTION at any hour, whether it is 4 p.m. or 4 a.m.
2. Find Support for Coping with Unexpected Pregnancy
Whether it's a planned or unplanned pregnancy, having a strong support system is crucial. Dealing with unexpected pregnancy alone can take a toll on both your mental and physical health, so be sure to seek support from loved ones around you.
For example, here are some people that you could speak with about your unplanned pregnancy:
Family members: When you talk to your family about your circumstances, it could take some time for them to process this news. Tell them that their support would mean a lot, and, if they offer help, then don't be afraid to take it.
Close friends: Great friends are there for you whenever you need them. If you're wondering how to cope with unexpected pregnancy, then spending time with your close friends and talking with them about your situation can help ease some stress.
The baby's father: You may have a loving, committed relationship with the baby's father, in which case it is a great idea to go to them for support. In some instances, it could be more complicated, or they may not be involved at all. But, if they're supportive, then lean on them if they offer help.
There is no proper way of handling unwanted pregnancy in Arizona, but talking to your loved ones is always a good starting point.
3. Learn about Your Unplanned Pregnancy Options
After coming to terms with unplanned pregnancy, you can begin researching your unplanned pregnancy options. From a general standpoint, there are three options to select from, each of which we'll go into more detail about below:
Parenting: As you consider parenting, be sure to ask yourself if you're financially capable of providing for a child right now. You may have guessed this, but parenting is expensive. Also, think about the kind of support that the baby's father will provide.
Abortion: Availability to abortion will depend on how far along you are in your pregnancy. To learn more about Arizona abortion laws, check out the Guttmacher Institute for more information. Be sure to speak with your doctor first so that they can address any potential health concerns, too.
Adoption: Adoption can be a way of finding joy in an unplanned pregnancy. Through open adoption, you can watch your child grow up in a loving home with an adoptive family of your choosing. It doesn't have to be "goodbye." Adoption is simply "see you later."
All three of these options are equally valid, so be sure to choose the path that is right for you. No one should judge you based on what choice you make for your unplanned pregnancy. Only you know what is best for you. But, we are always willing to listen to you and help you make a decision. Call us at 1-800-ADOPTION whenever you may need us.
4. Speak with a Professional
It can always be helpful to talk to a professional about your unplanned pregnancy options. If you decide that adoption is right for you and your child, then we can help you get started on your journey whenever you're ready. For some prospective birth mothers, an unplanned pregnancy is a blessing in disguise.
American Adoptions also offers several benefits for prospective birth mothers who work with us. Here are just a handful of those benefits:
When it comes to finding the perfect adoptive parents, many prospective birth mothers have a great "gut" feeling when they've stumbled upon the right fit. It's one of the ways of finding joy in an unplanned pregnancy.
That's how Sara, a birth mother who worked with American Adoptions, felt when she met her son's adoptive family.
"After a couple of phone calls, we met for the first time on March 31, a day I will never forget," she said. "The hugs and kisses lasted forever between us, and we just meshed. It felt like I had known them my entire life. I was more confident in my choice – not just in adoption but in picking the perfect couple to raise the baby."
***
We understand if this is a lot of information to soak in at once. Remember that we are always a phone call away at 1-800-ADOPTION to answer your questions about dealing with unplanned pregnancy in Arizona. You'll speak with one of our experienced adoption professionals, and we would love to help you at any time! Also, you can get free adoption information now.
Disclaimer
Information available through these links is the sole property of the companies and organizations listed therein. American Adoptions provides this information as a courtesy and is in no way responsible for its content or accuracy.