How to Start the Adoption Process in Arizona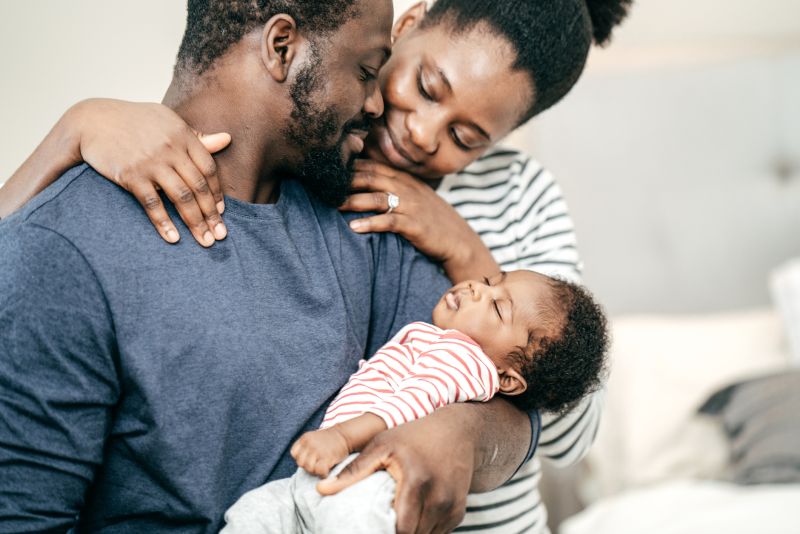 Is your family considering adoption as a way of growing? If you've done much research, you probably know that the adoption process in Arizona can be life-changing for everyone involved: the birth parents, the adoptive parents, and the adoptees.
Regardless of the role you will play in an adoption in Arizona, you likely have unanswered questions. The process of adoption in AZ can be overwhelming initially, but at American Adoptions, we're here to help.
Our comprehensive guide to the adoption process in Arizona is intended to give you the information you need when starting the adoption process in AZ. If you'd like to learn how to start the adoption process in Arizona with American Adoptions, just call 1-800-ADOPTION or complete our free online contact form when you're ready. In the meantime, read below to learn more about the adoption process in AZ.
The Adoption Process: How Does the Adoption Process Work in AZ?
There are common legal, emotional and social factors that impact all adoptions despite their unique nature. If you're considering working with American Adoptions on your adoption in Arizona, you can depend on your adoption professional to guide you through the adoption process in Arizona from beginning to end.
At American Adoptions, we've been helping birth parents and adoptive families navigate the adoption process in AZ for more than 25 years. We've helped build over 13,000 families in that time, which is why we're one of the largest, most respected national domestic infant adoption agencies in the U.S. Our proven track record includes a 96% success rate for families who stay active with our agency.
When you partner with American Adoptions, you'll know you're working with licensed adoption specialists. Many are themselves, adoptees, birth parents and adoptive parents. That personal connection to the adoption process in AZ helps them relate to what you're going through on a professional and emotional level, and they can help you get through it.
If you're looking to experience the best possible adoption journey, choose American Adoptions. Our experience, compassion, and knowledge are unequaled by other adoption agencies. If you're asking, "How do I begin the adoption process in Arizona with American Adoptions?" you should know you can simply call 1-800-ADOPTION or fill out our free online form get started today.
Now, let's take a closer look at the adoption process step by step in AZ.
Step 1: Determining Whether Adoption Is Right for You
The process of adoption in AZ can be difficult at times, but the rewards make it all worth it. Adoption provides you a way to invest your time, your finances and emotions into creating the family you've always wanted. Before starting the adoption process in Arizona, you should understand what it will mean and how it will change your life.
Your American Adoptions specialist will help you thoroughly consider the reasons you want to adopt and your dedication to being the best possible parent. If, after deliberating, you choose to begin the adoption process in AZ, you'll be making a commitment to adopting a child.
Step 2: Choosing an Adoption Type
As a national adoption agency, American Adoptions focuses on domestic adoption of infants across the U.S. However, you have a few other ways to adopt Arizona kids if you so choose, including:
Domestic Infant Adoption: Private domestic infant adoptions often happen after a woman facing an unexpected pregnancy decides to place her baby with a hopeful adoptive family. Adoptive parents usually meet their babies at the hospital and take them home. In open adoption, contact is maintained between all parties after placement.
Foster Care Adoption: The foster system strives to keep biological families together, but when that's impossible, foster care adoption is an option. Around 25 percent of kids removed from their homes become eligible for adoption from foster care. Foster care and foster care adoption can result in uncertainty, but they are often rewarding.
International Adoption: International adoptions may include adoptees of all ages from nations other than the U.S. The requirements to adopt and the adoption process vary among nations, so it's a good idea to work with a reputable international adoption agency when navigating the adoption process in Arizona.
Are you beginning the adoption process in AZ but uncertain which type to pursue? We want you to know American Adoptions is here for you. There's a lot of variance in things like costs, processes, requirements, and steps when you examine the different types of adoption in AZ. You can complete our online form to get free information today or call 1-800-ADOPTION to connect with a professional and get advice.
Step 3: Deciding On the Right Adoption Professional
Selecting the right adoption professional is an important part of the process of adoption in AZ. Your adoption professional will shape your adoption experience and your satisfaction with it. Price should never be the only consideration when choosing an adoption professional because services and expertise differ widely.
You can complete the adoption process in AZ without a professional through independent adoption, but you may be at increased risk of fraud and financial loss. Also, those involved in the adoption will lack access to the support and services offered by adoption professionals. That can mean higher costs and longer wait times when pursuing independent adoption.
But if you choose American Adoptions as your adoption agency, you'll have a dedicated professional who will guide you through the process from Day 1. You won't be left to figure out the process for adoption in AZ by yourself.
American Adoptions is not only licensed in Arizona for child placement. We can also handle your home study. American Adoptions offers all services you need to complete a successful adoption in one organization. We blend the resources of a national agency with the personal attention you'd expect from a local organization. We even have local professionals to give you the additional support that most agencies simply aren't able to offer.
Some of the services you can expect from American Adoption include:
Because we are licensed to operate across the U.S., there's an increased chance you'll find your "perfect match." Our national scope also provides birth mothers with better odds of finding an adoptive family that corresponds to their adoption plan.
You can find out more about the industry-leading services we offer and how you can benefit from them during the adoption process in AZ by completing our online form or calling 1-800-ADOPTION.
Step 4: Observing the Requirements of the Adoption Process in AZ
Are you asking, "What is the adoption process in Arizona?" we want you to know that American Adoptions has the answers. Partnering with our agency ensures you'll get the information you need.
Part of that involves using our Adoption Planning Questionnaire (APQ) to document your adoption preferences and create a prospective adoptive family profile. That can help expectant mothers find families like yours that match their adoption wishes.
Creating your profile using your APQ responses is one of the most important steps in the adoption process in AZ. But it's not the only one. Some of the other things you'll need to do include:
Step 5: Identifying Your Perfect Adoption Opportunity
Once the adoption requirements are satisfied, your next step in the process for adoption in AZ is joining the ranks of active adoptive families through American Adoptions. We'll make sure your adoptive profile is presented to prospective birth mothers, which means you can get an adoption opportunity at any time.
Our years working with adoption have taught us that the primary concern of most birth mothers is finding the perfect adoptive family for their child. This part of the adoption process in AZ is exciting, but it can also be a source of stress for some expectant moms. To learn more about families looking to adopt, please review adoptive family profiles here.
How long does the adoption process take in Arizona usually? That's a key concern for many hopeful parents. The average wait time with American Adoptions is 9-12 months. Your APQ plays a role in your wait time because your willingness to be flexible about a variety of adoption opportunities can impact the length of the adoption process in AZ.
Once you're matched with an expectant mother, you can get to know her better thanks to pre-placement communication through several kinds of contact. Through her hospital plan, the expectant birth mother can set her preferences for the birth of her child. After the child's birth, the birth mother will sign the adoption paperwork, and the placement of the baby can move forward.
Step 6: Finalizing Your Arizona Adoption
Adoption finalization is the part of the adoption process in Arizona that most prospective adoptive families dream about. If you're pursuing adoption across state lines, there are travel guidelines established by the Interstate Compact on the Placement of Children (ICPC) that you'll need to observe. They may also require that you stay in your baby's birth state until your adoption attorney gets word that you're approved to return home with your child.
There will be one or more post-placement in-home visits that take place prior to finalization that assess the child's adjustment to your home environment. Most of the time, the finalization hearing is held about six months after placement. At that time, your case is reviewed by a just who legally finalizes the adoption. That means you get full parental rights for your child, making this portion of the adoption process in AZ a joyous celebration.
Final Thoughts on the Adoption Process in Arizona
The process for adoption in Arizona is complicated. However, following these steps gives you a way to reach your adoption goals as quickly as possible. At American Adoptions, we're committed to helping you enjoy a smooth, speedy adoption process that completes the requirements for adoptions in Arizona.
If you'd like to speak with an adoption specialist today, you can complete our online form or call 1-800-ADOPTION today. We're here to help, and we look forward to partnering with you to make your adoption dreams come true.
Disclaimer
Information available through these links is the sole property of the companies and organizations listed therein. America Adoptions, Inc. provides this information as a courtesy and is in no way responsible for its content or accuracy.