How Do You Adopt a Baby in Arizona?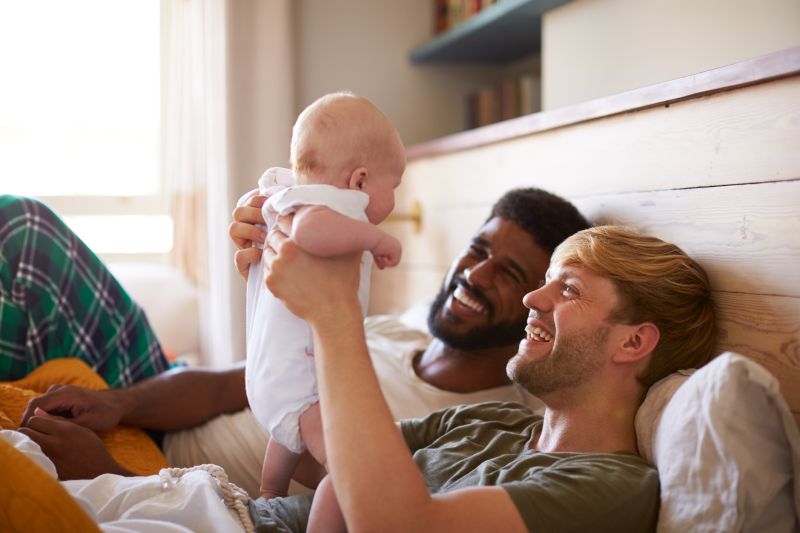 Baby adoption in Arizona is a beautiful thing, largely because of the benefits it bestows on everyone involved. A child gets a loving home and a bright future. A birth mother gets a chance to move on from an unwanted pregnancy while keeping her dreams intact. Hopeful parents get a chance to start the family they've always wanted.
There are many noble reasons for adopting a baby in Arizona or in any other state. But how do you adopt a baby in AZ, and what are some of the reasons people do it? You can find out by reading below as we discuss a few factors that lead prospective adoptive parents to choose baby adoption in Arizona.
If you're considering adoption of a baby in AZ, it's a good idea to speak with a professional. Fortunately, we're here to help. You can talk to one of our adoption specialists today by calling 1-800-ADOPTION or completing our online form.
How Do You Adopt a Baby in Arizona?
Are you thinking about Arizona baby adoption but still unsure how to go about adopting a baby in AZ? If that's the case, you're in luck, as we briefly cover the 5 steps in the AZ adoption process below. They are:
Find the right adoption professional
Complete APQ, screening, profile, home study, and training.
Await your adoption opportunity.
Get to know the birth mother who selected you.
Accept placement after your child's birth
Finalize your Arizona baby adoption and carry out your post-placement adoption agreement.
If you're interested in learning about the Arizona baby adoption process in greater detail, you can check out our deeper dive into that topic by clicking here.
Why Pursue Adopting a Baby in Arizona?
So, you've been researching how to adopt a baby in the U.S., and you want to know some of the reasons that hopeful adoptive parents opt for adopting babies in AZ instead of pursuing another type of adoption. The good news is that you've come to the right place.
Keep reading below to learn more about what motivates waiting parents to choose baby adoption in AZ.
1. You have your heart set on adopting a baby in AZ
Prospective adoptive parents who adopt a baby in AZ have an opportunity to impact the life of their child from the start. They feel that it will let them create the deepest connection with their child and be sure their child has the foundation of a healthy, happy future.
Is instilling your values in your child and establishing family traditions early on important to you? If you answered yes, adopting a baby in AZ may be the best way for you to move forward.
2. You want comprehensive support and services when adopting
American Adoptions is a private domestic adoption agency, and we'll be with you through every step of the process of adopting a baby in AZ. You'll never be alone when you work with our agency. Our domestic adoption program offers industry-leading comprehensive support and is itself a compelling reason to choose to adopt a baby in Arizona.
Some of the advantages you get from partnering with American Adoptions include:
No other agency specializing in Arizona baby adoption offers all these unique services under one roof. American Adoptions is dedicated to providing the support you need and deserve throughout your adoption journey.
3. You want to help an expectant woman keep her dreams for the future intact
One of the often-forgotten aspects of adoption is that adopting an infant in AZ lets you support an expectant woman who wants to move forward from an unplanned pregnancy with her future intact. We at American Adoptions put an emphasis on supporting women considering adoption, so much of your investment in your Arizona baby adoption will directly fund services and financial support of your baby's birth mother.
Some of the support we offer women considering adoption and those committed to adoption for babies in AZ include:
Deciding to adopt a baby in Arizona through a private domestic adoption agency is a great way to support women who are dealing with a difficult situation and who want to reclaim the future they have always dreamed of.
4. You want to pursue an open baby adoption in AZ
It's now widely recognized that open adoption is best for adoptees for many reasons. Open baby adoption in AZ gives them a chance to grow up knowing who they are and where they came from. They have full access to their culture, history, and love from their birth parents. It also benefits birth parents and adoptive parents.
Pursuing an open adoption of a baby in AZ means you are willing to do what it takes to ensure your child has every chance at a bright future full of love and opportunity. They'll get the chance to have a relationship with their birth parents and grow up with transparency about their adoption story.
5. You want to be sure your AZ baby adoption is ethical and compassionate
Working with American Adoptions when adopting a baby in AZ ensures maximum oversight since we're a national agency licensed to perform adoptions in all 50 states. That means we undergo many regulatory processes and reviews for our licensure multiple times each year to ensure we offer ethical, quality services to birth mothers and adoptive parents alike.
That's not always the case with every agency, though. Some unethical adoption professionals may not offer the same quality of service you get with American Adoptions. However, you can be sure when you choose to adopt a baby in AZ through our domestic agency that you are doing your part to encourage ethical adoption practices.
6. You want to adopt a baby in AZ with the shortest possible wait
American Adoptions offers shorter wait times than other adoption professionals. That's because we partner with birth mothers from across the U.S. instead of only one state or region. We'll put our extensive resources to use in finding prospective birth mothers, offering them services no one else provides. This means that when adopting a baby in AZ, your adoption profile will be seen by many more expectant women, so your wait time will be dramatically reduced.
7. You want your investment to be protected when adopting a baby in AZ
Adoption of babies in AZ is expensive, and we understand that. That's why we strive to protect your substantial investment of time and money, despite the chance that it may not work out. Adoption disruption is a real thing, and unlike many other agencies, we are committed to protecting adoptive families from its effects.
Some AZ baby adoption agencies offer a "rollover" policy for adoption disruptions. With a rollover policy, the funds spent on a failed adoption opportunity can only be applied to another adoption opportunity.
However, we don't think that's the best way to serve adoptive families. American Adoptions' financial protection program protects families further by providing a full refund of the money you have dedicated to an adoption opportunity if it falls through. That gives you maximum flexibility and keeps your options open after a disrupted adoption opportunity.
Closing Thoughts on How to Adopt a Baby in Arizona
After reading some of these compelling reasons that hopeful parents choose AZ baby adoption, you may have decided it's right for you, too. If that's the case, we want to congratulate you. You're about to embark on a life-changing journey that will be satisfying and enriching for your family.
Your next step is to speak with an adoption professional about the process, and we're here to help with that. To talk with one of our adoption professionals today, simply call 1-800-ADOPTION or complete our online form. We'll be in touch soon!
Disclaimer
Information available through these links is the sole property of the companies and organizations listed therein. American Adoptions provides this information as a courtesy and is in no way responsible for its content or accuracy.