1-800-ADOPTION
Thank you for viewing our profile
If you would like to learn more about us, please call 1-800-ADOPTION (2367846), fill out the form at the bottom of our on-line profile page, or email us at bp_information@americanadoptions.com.
To revisit our on-line profile page and view our profile video at American Adoptions, simply use your mobile phone to scan the QR code on the right. We are looking forward to hearing from you!
Brett & Jodi
We are thrilled that you have taken the time to check out our profile! We would love to share a little about our lives in hopes that you will see the love we have for each other and our son. We love being parents and cannot wait to share that love with another child as we will devote our lives to nurturing, caring, and loving him or her unconditionally.
About Us
Job
IT Recruiting Manager
Graphic Designer
Education
Bachelor's Degree in Psychology
Bachelor's Degree in Visual Communications and Publications Design
Relationship
Legally Married
Our Child
Kovax, or as we like to call him, "Bubby" just turned five. We worked for years to figure out the best way to start a family, knowing that it was not possible for Jodi to carry a pregnancy. We spent time looking into all available options, but the only means that felt right to us was to adopt. Our friends and family were insanely supportive and so excited when we started the adoption process and when Kovax was born, he was not only welcomed by us, but our family and friends, who have for the last 5 years surrounded him with love, support, and encouragement.
We are so proud to be his parents and feel we are the lucky ones to have the opportunity to raise a child that has taught us so much and made our hearts expand more than we ever thought possible! Like us, Kovax has been anxious for a baby brother or sister for the last few years. He is so excited to have a younger sibling that he can help and bond with. Kovax is extremely caring and very aware of people's feelings and how he can help in every situation, whether it is doing day-to-day chores, making sure our dog is taken care of or making sure other kids are included. He has the biggest heart and will share his last oreo because he loves seeing people happy. He started kindergarten in the fall and is into all sports, cars, and Paw Patrol.
How Adoption has Affected Us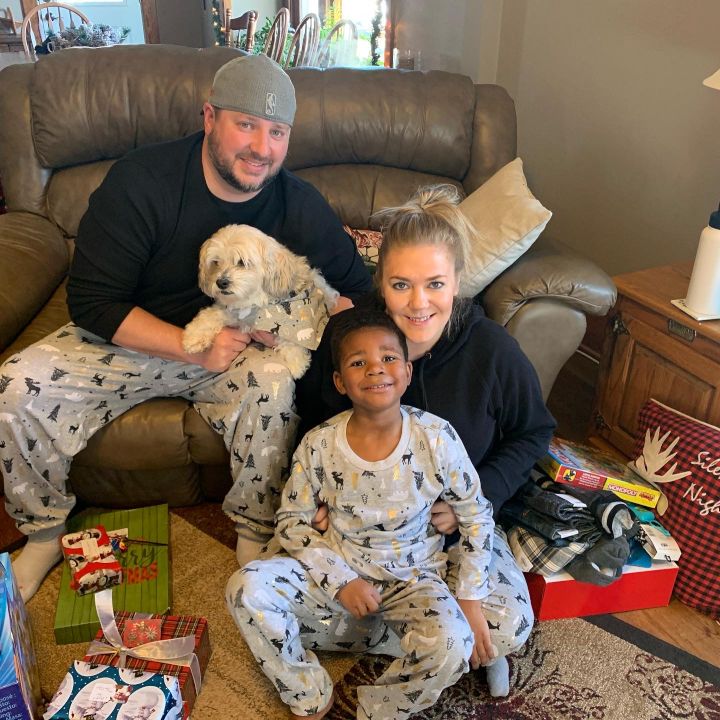 We feel that growing our family through adoption has given us a different perspective on life. Going through the adoption process provided us a chance to really talk about what children mean to us and how badly we wanted them, and that is something that we don't ever take for granted. The best way we can describe adoption is LOVE. We had no doubt that any child God chose for us to raise would be unconditionally loved by us. The deep love that we know birth mothers have for their babies is such an amazing, strong, and selfless love. Choosing adoption as the way to grow our family has made us feel incredibly special.
It has also been awesome to see all of the love and support we've received from family and friends through the process. We know that raising a child takes more than just two people, and we're very grateful for all of the support we've received from those close to us. To know that they want to have a part in our children's lives and will go out of their way to help has been amazing to experience. This feeling of gratitude has since carried over to many other areas in our lives, and we're so much more thankful for everything God has given us, knowing that nothing in life is guaranteed.
Our Pets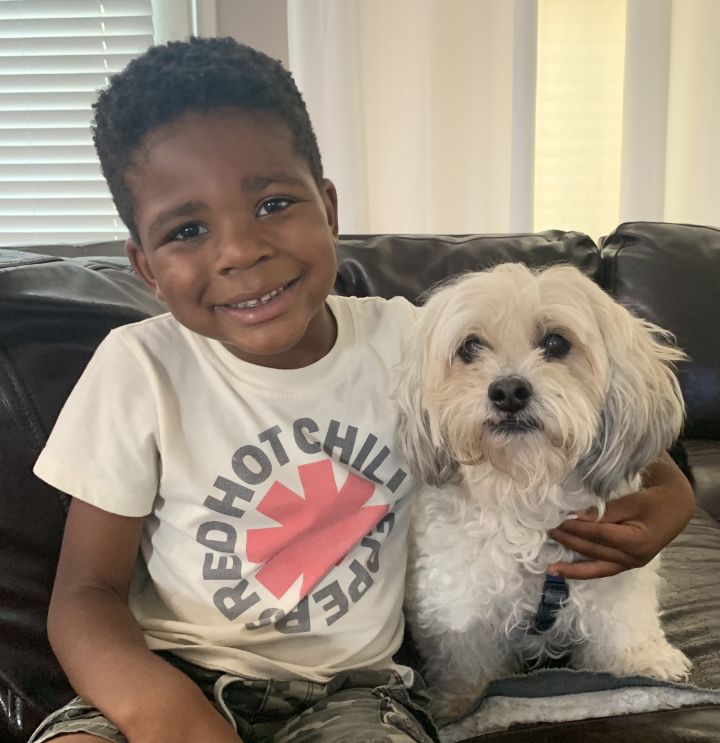 Bowzer is our gentle, fun-loving dog that sometimes acts like he is human. We got Bowzer when we were dating and he has brought so much joy and laughter to our home and hearts. When we brought Kovax home after he was born, Bowzer immediately warmed up to him and always had to be where Kovax was. Bowzer has been such a huge presence in Kovax's life. Having a dog has helped Kovax learn about responsibility and caring for someone else. He's also helped Kovax learn to respect other living creatures. He is also teaching Kovax about unconditional love. They are best buds. Kovax loves to help take care of Bowzer and his needs, including feeding him. And the feeling is mutual as Bowzer follows Kovax around and lays right in the entrance of his bedroom at night as if he is Kovax's protector. Jodi has always had such a love for dogs. She used to volunteer at the local animal shelter and plans to get back at that in the future. Her favorite part of volunteering was the reading program, where kids would come and sit and read to the dogs. This program provides the dogs with companionship and has a calming effect for many dogs. And in return, children tend to thrive in reading because they are more confident reading out loud to a dog.
Photos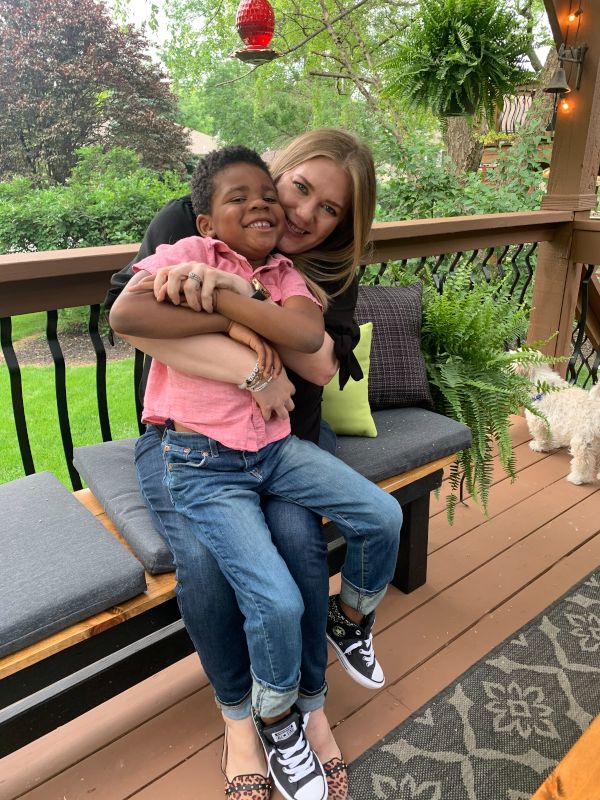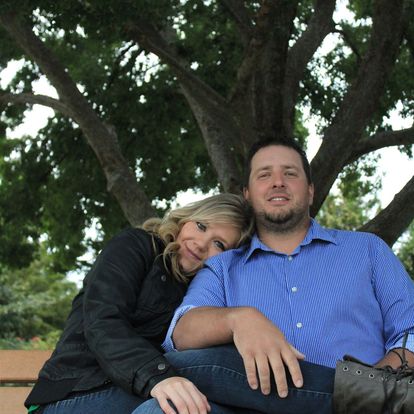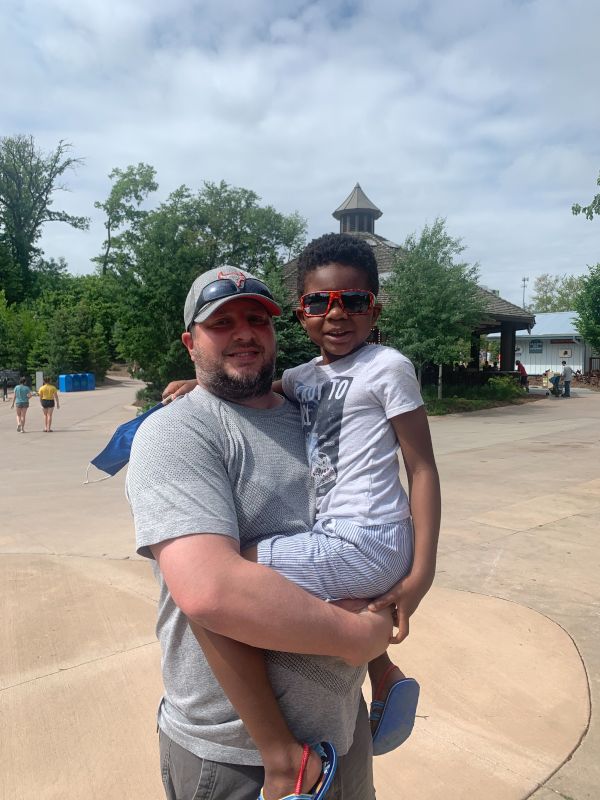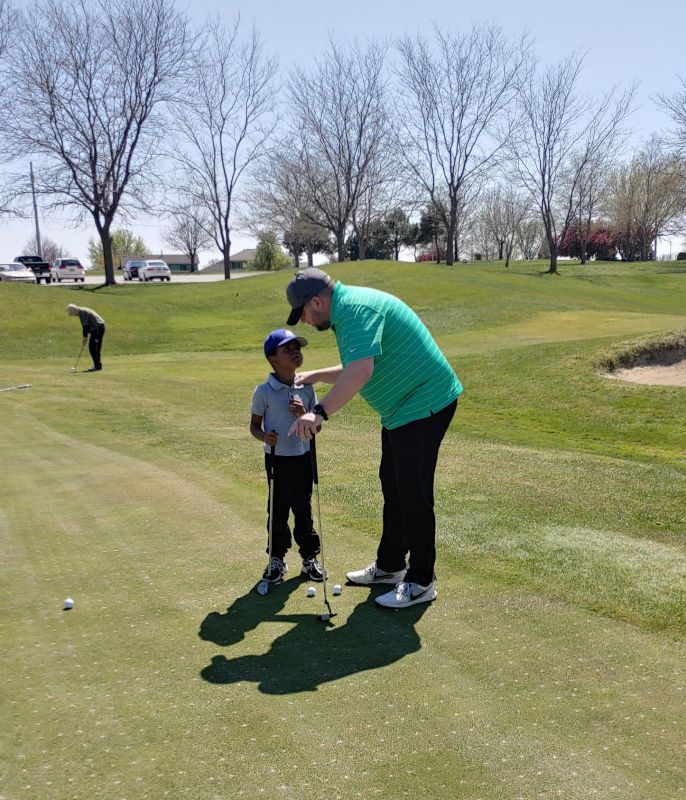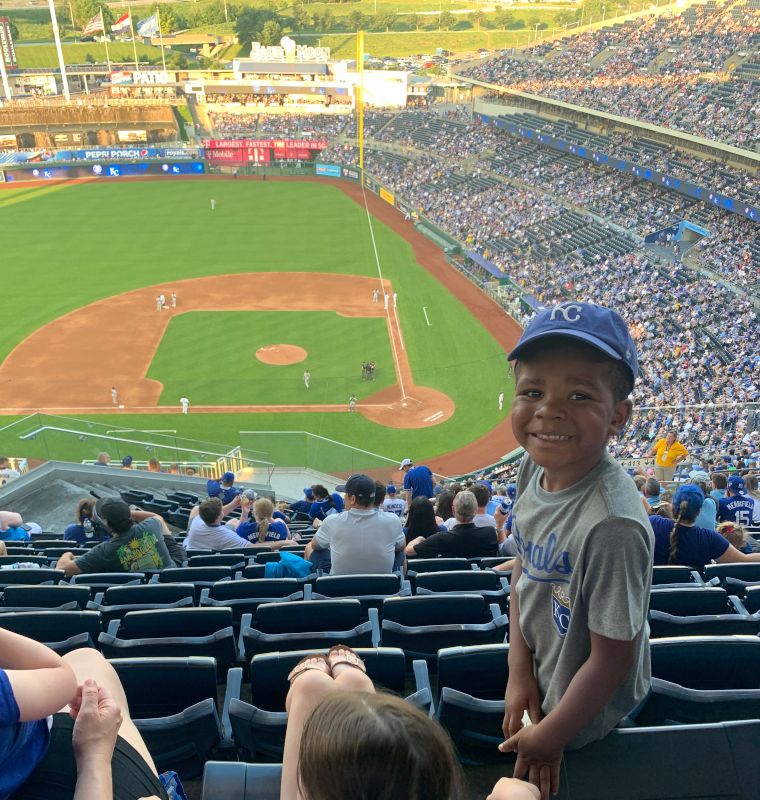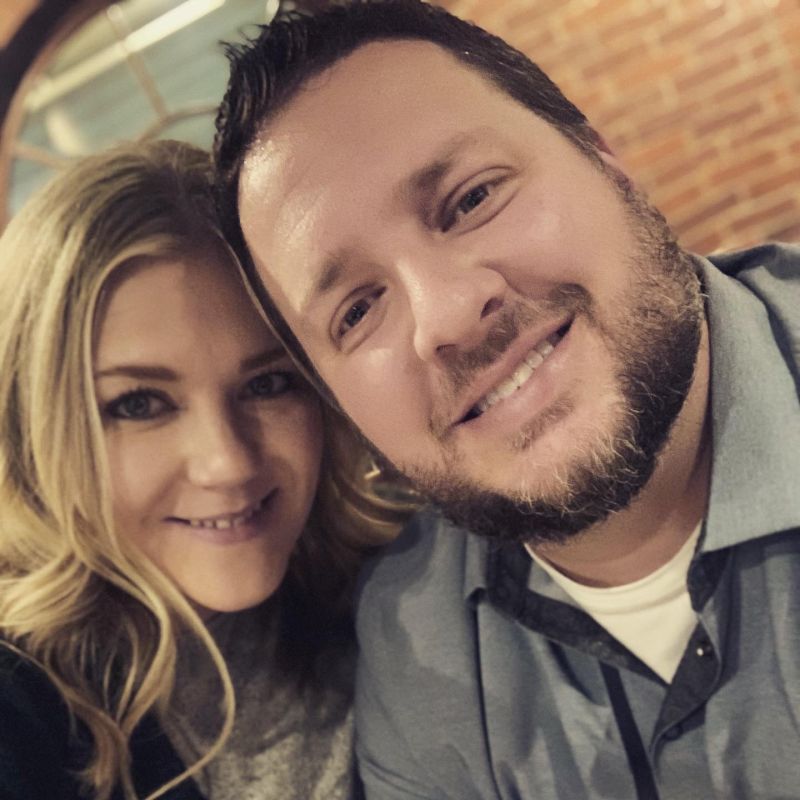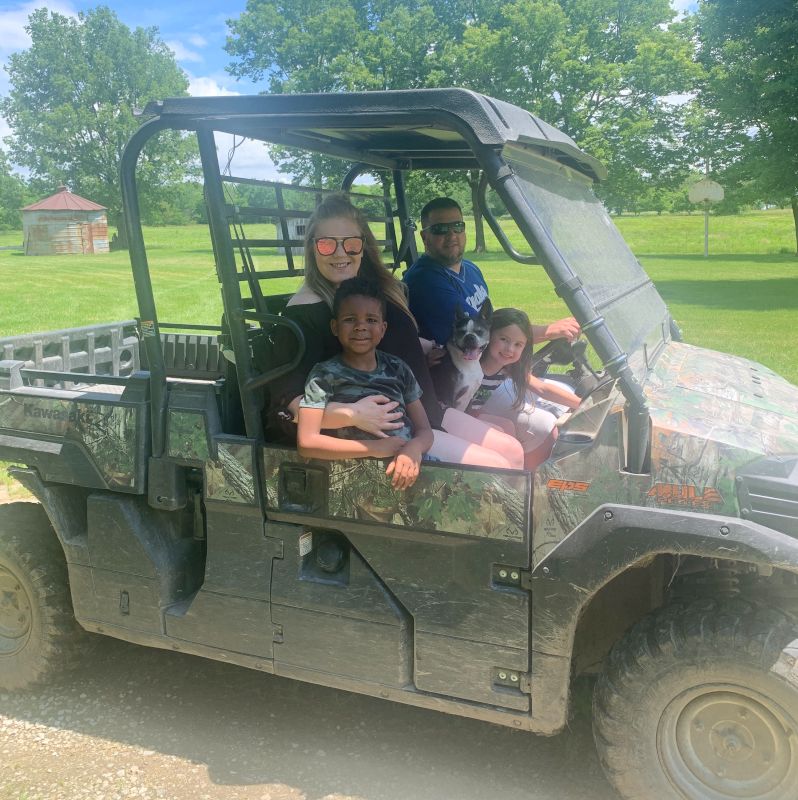 ×
1 / 12
2 / 12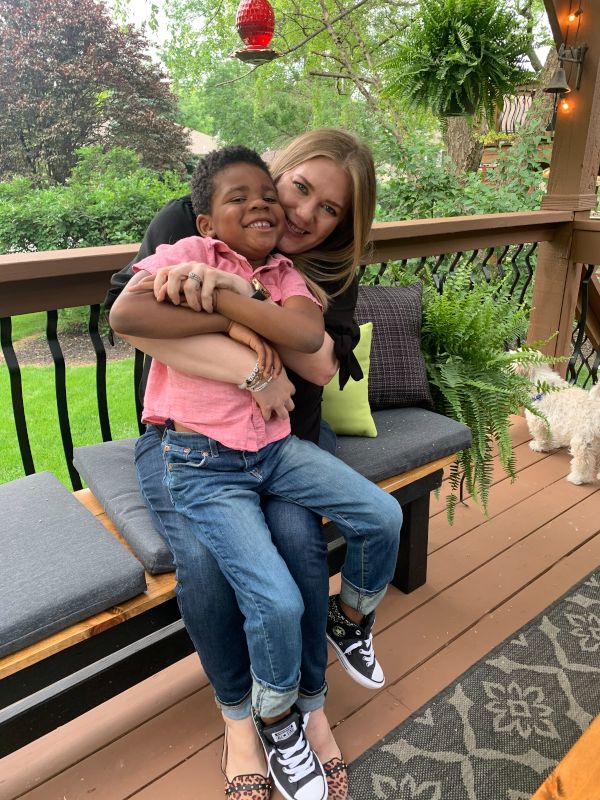 3 / 12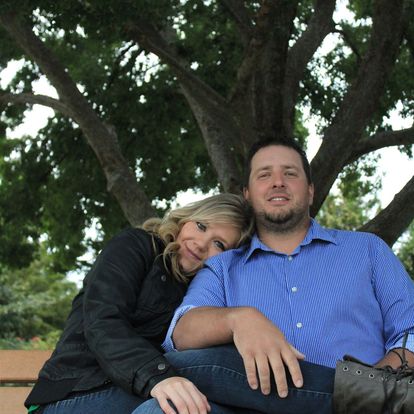 4 / 12
5 / 12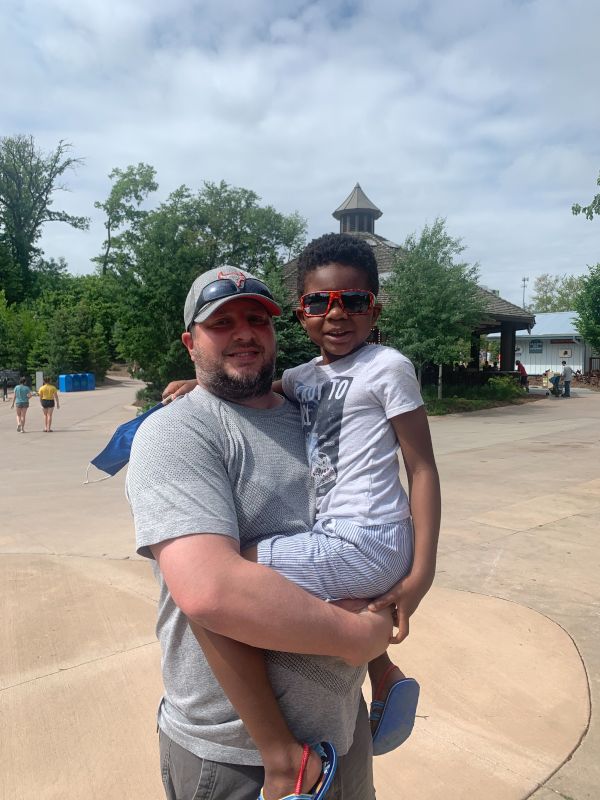 6 / 12
7 / 12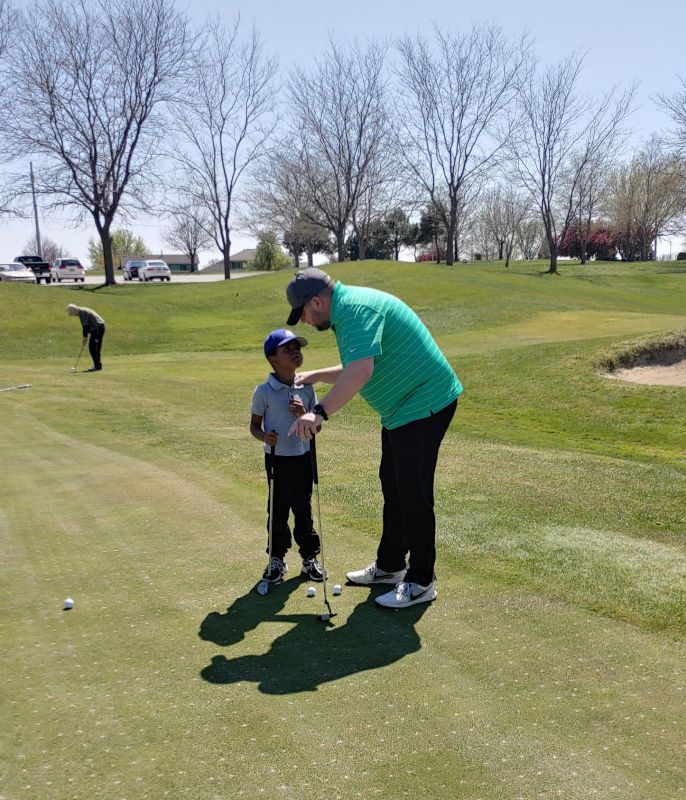 8 / 12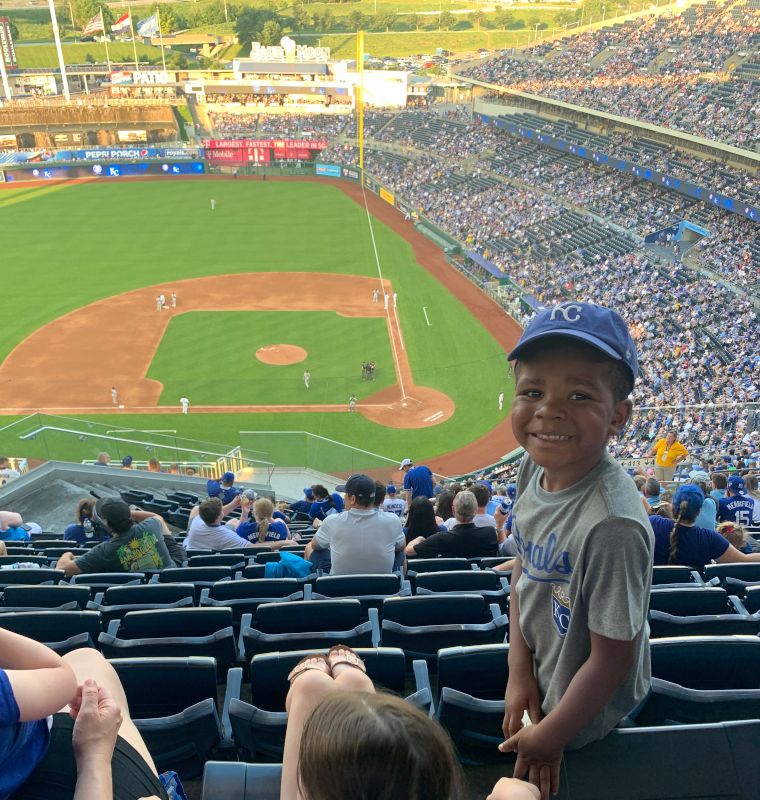 9 / 12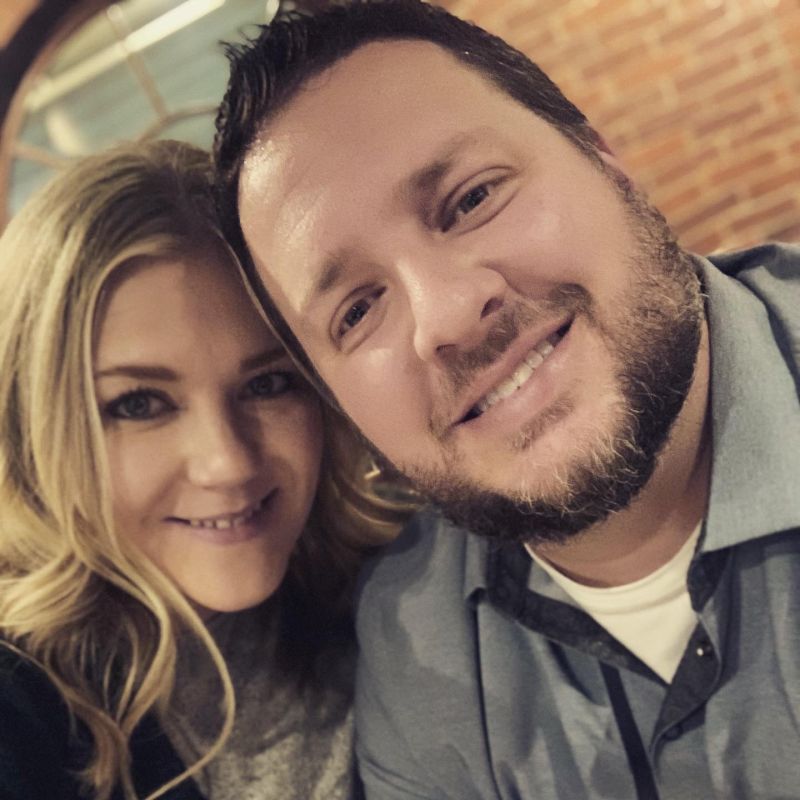 10 / 12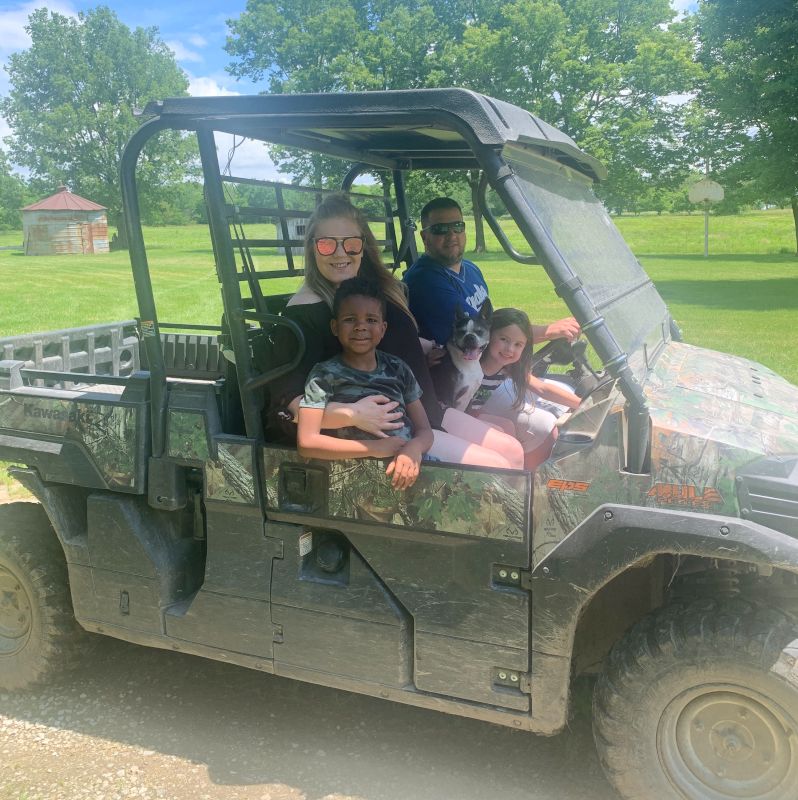 11 / 12
12 / 12
❮
❯
Our Extended Families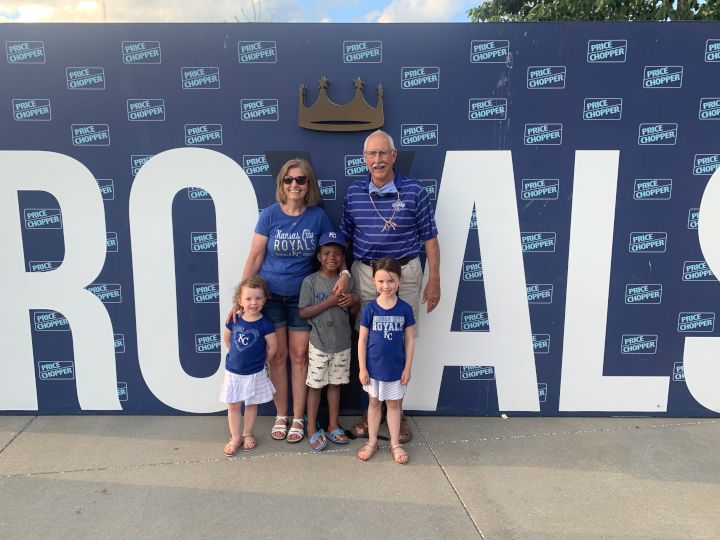 Our current family of three is surrounded by extended family and friends, waiting with open arms to welcome another precious little baby. We have very close relationships with our families. Both sets of parents have been married for over 40 years. Brett is the oldest of three brothers and grew up on a farm outside of Kansas City where his parents still live. We love spending weekends on the farm along with Chris (Brett's youngest brother) and his wife, who have two little girls that we adore. Jodi's family lives about 15 minutes away and is extremely hands-on; her dad will always get down on the floor and play anything that Kovax's imagination comes up with. Jodi's mom is always baking, building fun toys, or doing art with Kovax. Between both families, we love that we get to experience both city life and farm life with children.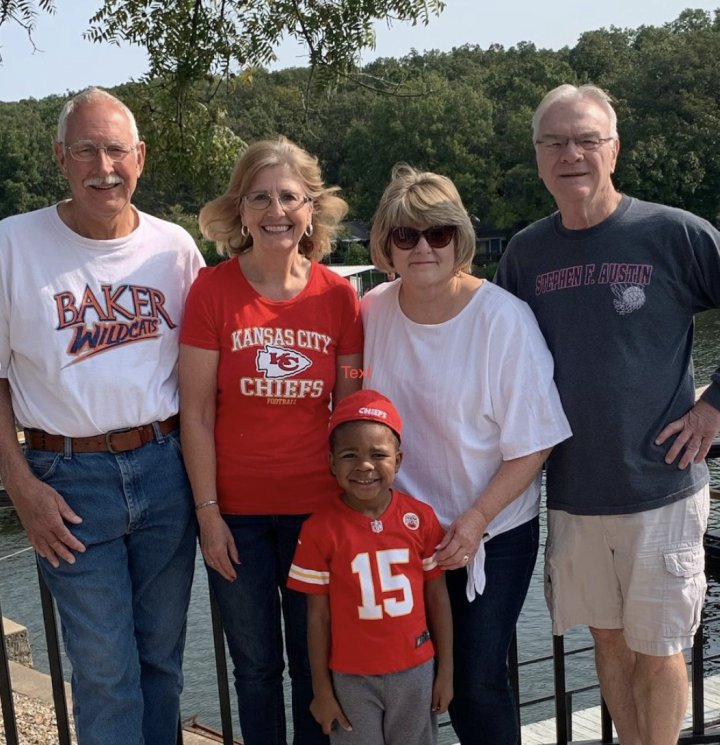 In addition, we have an extremely tight group of friends that we spend time with regularly, and also consider them extended family. They all have children that are about Kovax's age or younger. Much of that time is spent grilling & outdoor movie nights, play dates, zoo trips, and going to Royals games. We also spend several weekends out of the year at our friend's lake house, swimming & boating. We've also enjoyed multiple trips together with both of Jodi and Brett's parents, which Kovax absolutely loves.
Our House and Neighborhood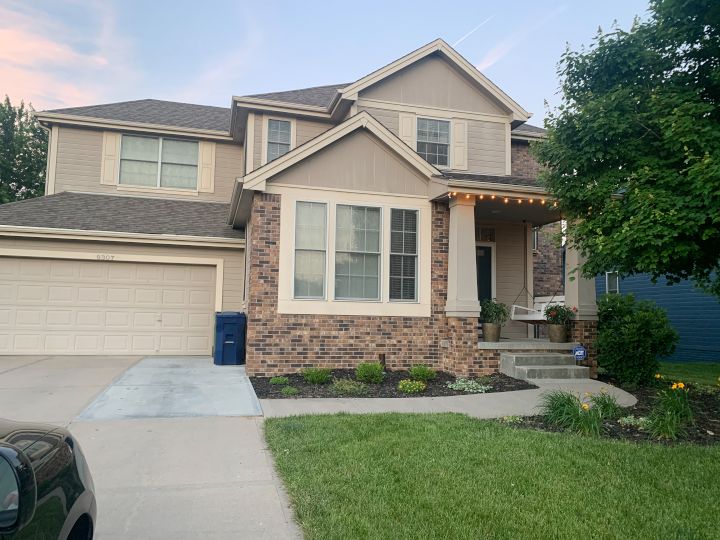 We live in a very diverse community, in a neighborhood particularly known for its safety. It is the neighborhood that parents in surrounding subdivisions bring their children to for trick-or-treating or to join the kids parade on the 4th of July and watch fireworks. We've lived in this neighborhood for almost three years. One of our favorite parts about it is that there are several multi-racial families that look similar to ours and it's important for us that our children grow up seeing the beauty and familiarity in those other families as well.
Our four-bedroom home has a fenced-in backyard with a fire pit right off the deck, perfect for our outdoor movie nights. Just four houses down from ours are the neighborhood park and basketball court. The location of our home is less than 10 minutes from the downtown Omaha area, which includes several dining places, a theater, a pedestrian bridge with a splash pad(which is Kovax's favorite), Children's Museum, and the Zoo. We also live just a few miles from a nature center, which offers several beautiful hiking trails, a large tree house adventure for kids, and zip-lining. Also close by is a Pumpkin Ranch that we visit several times a year for apple or berry picking.
Our neighborhood also lends itself to several options for schools to pick from that are highly ranked and recommended not only for academics and sports but also for the array of different programs and extracurricular activities they provide.
From Us to You
Thank you for taking the time to get to know us! We know this is a difficult time as you are trying to figure out the best option for you and your precious baby. We have witnessed first-hand in our previous adoption the deep love, strength, and selfishness a birth mother has. We hope that you feel supported and loved no matter where you are on this journey, as we know you want the very best for your child.
We have been together for 14 years and found out early on in our relationship that due to a heart condition Jodi had fixed when she was young, a pregnancy could still be entirely too risky for both her and an expected baby. While we always talked about and wanted children, we spent the first four years of our marriage really just enjoying each other and building a solid foundation for our relationship. Once we both felt ready to start a family, we looked into using a surrogate. We started to get things in order, but a few things just didn't feel right to us. We decided to take a step back and that is when God opened our hearts to adoption. We immediately chose to forgo the surrogate path so that we could move forward with adoption instead. It was proven through the adoption of Kovax that this is the path that God intended us to be on, and we know without a doubt in our hearts that adoption is the path we are to continue on to expand our family and we are so excited!
Being a "team" is something that is so important to us on many levels. From the very beginning of our relationship, we always felt we were a "team". We had so much fun together but also had a foundation based on honesty, respect, and loyalty. Brett was a teacher and coach for 11 years and taught young people what it means to be on a team. Jodi has a sister with a learning disability, so growing up, she was always looking out for her. Jodi and her parents have always stuck together as a team to help her sister through obstacles she had to face. So the word "team" really means a great deal to us, and we can't wait to welcome another little member to be a part of our "team"!
We are both fortunate to have careers that allow us a lot of flexibility, which is something that we believe to be extremely important in raising children. We each take an afternoon off every week to have one-on-one time with Kovax and will continue to do that with your child. Our parents were always able to attend all of our class field trips, sporting events, plays, choir concerts, and spelling bees. And it is so important to us that our jobs will also allow us to attend every school event and other activities your child may desire to participate in.
More than anything, we want you to know that we will love your child unconditionally and will devote our lives to providing him/her with all the love, security, support, and joy we can offer. We want your child to always know where he/she came from. You will always be an integral part of his or her life, and we plan to raise this child with an understanding, appreciation, and respect for you and the selfless sacrifice you are making for him/her. This child will be loved beyond words by us, our families, and our friends, and he/she will always know the great love you have for him/her as well. We will always talk openly and proudly about the unique way in which we became a family. We vow to share with you through photos and letters or emails how your precious child is growing and thriving.
Thank you again for considering us. We will be praying every day for you. May you find peace while you make these important decisions and determine the best match for you and your baby.
With love and admiration,
Brett & Jodi
Favorites
Actor
Will Farrell
Donald Glover, Gerard Butler
Actress
Sandra Bullock
Sandra Bullock
Book
Without Remorse
God Calling
Candy Bar
Snickers
Reese's PB cups
Childhood Memory
Family road trip to California
Spending Holidays at my grandmas with all my cousins
Childhood Toy
legos
My ghost buster backpack & trapper
Children's Book
The Berenstain bears
City
Charleston
San Fransisco
Classic Movie
Dumb and Dumber
Day of Week
Saturday
Saturday
Dessert
Cheesecake
tiramisu
Dream Job
Professional Athlete
Dream Vacation
Australia
New Zealand
Family Activity
movie night
brunch & farmers market
Flower / Plant
palm tree
hydrangeas
Food
tacos
pizza or enchiladas
Form of Exercise
golf
circuit training
Hobby
golfing, watering plants
painting
Holiday
4th of July
Christmas & 4th of July
Holiday Tradition
Me and Brett's day date (Christmas shopping, eating out, seeing a movie, etc)
Ice Cream
Vanilla
Chocolate
Leisure Activity
golf
movie nights while enjoying a bonfire
Magazine
Sports Illustrated
Memory with a Child
Kovax's birth, and taking him golfing for the first time
Kovax's birth & Wednesday afternoons spending one on one time with Kovax the last 5 years
Memory with Spouse
Riding bikes in Folly Beach, South Carolina
traveling or going to Royals games together
Movie
Wedding Crashers
The Proposal
Movie Munchie
milk duds
popcorn
Musical Group
Foo Fighters
Olympic Event
basketball
Gymnastics
Poet
Henry Wadsworth Longfellow
Quality about my Spouse
Patient and adaptive to any situation
makes me laugh daily
Restaurant
Cheddars
McCoy's in KC
Scripture
Jeremiah 29:11 - For I know the plans I have for you, declares the LORD, plans to prosper you and not to harm you, plans to give you hope and a future."
Sport to Play
Basketball
Golf
Sport to Watch
Football
Football
Sports Star
Michael Jordan
Patrick Mahomes
Sports Team
KC Chiefs
KC Chiefs, KC Royals, Iowa Hawkeyes
Thing to Cook
tacos
Pad Thai
Time of Day
dinner time with the family
TV Show
Friends
Schitt's Creek
Type of Music
alternative, country
Vacation Spot
Lake of the Ozarks
Friend's lake house at the Ozarks, MO
Video Game
Mario Cart N-64
Get in Touch
Provide more information, so American Adoptions can connect you with this family.
---