1-800-ADOPTION
Thank you for viewing our profile
If you would like to learn more about us, please call 1-800-ADOPTION (2367846), fill out the form at the bottom of our on-line profile page, or email us at bp_information@americanadoptions.com.
To revisit our on-line profile page and view our profile video at American Adoptions, simply use your mobile phone to scan the QR code on the right. We are looking forward to hearing from you!
Ross & Sarah
We are so excited about the opportunity to adopt a baby and grow our family. We have looked forward to being parents together since the day we got married, and we have so much love to share with a child. Words cannot describe how thankful we would be if you chose us to parent your child. Thank you for considering us on your adoption journey!
About Us
Job
Customer Support Supervisor
Social Services Support Specialist
Education
Bachelor's Degree in Information Technology
Master's Degree in Early Childhood Development
Relationship
Legally Married
Adoption in Our Lives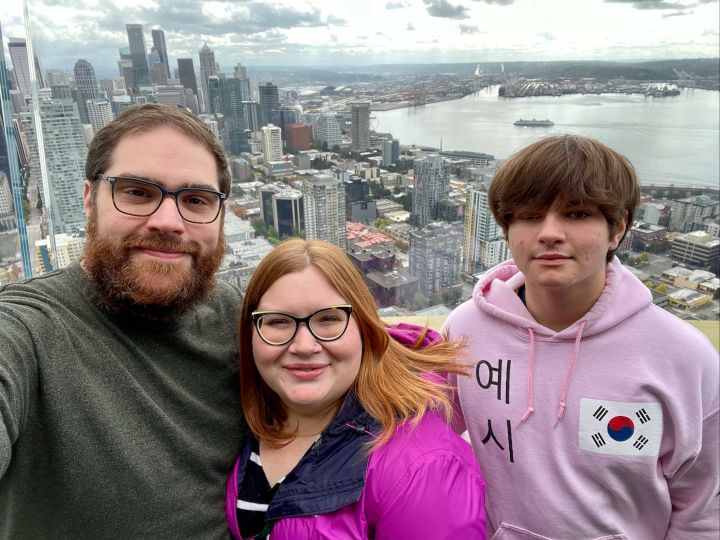 Adoptions has affected us personally, particularly Ross. When Ross was 18, he found out that he had two half-siblings that his mother had placed for adoption as a teenager. While this was a shock, it also created an opportunity for him to get to know his siblings and widen his family circle. Surprisingly, both of his siblings lived locally, and they began to spend time together. Since then, Ross has grown particularly close with his older brother. We have had the wonderful opportunity to watch Ross's brother grow his own family over the years, and we love spending time with his children. We now spend almost every holiday together; Ross even gifted his prized bass guitar to his nephew for his 16th birthday! While Ross and his siblings may not have a shared childhood memory, they have begun to make their own family memories together as adults.
We have also been impacted by our nephew Micheal joining our family. Micheal was 15 when he came to live with us. We have not formally adopted him, but his mother was not in a place where she was able to raise him safely and asked us to agree to a temporary guardianship. This was a large and unexpected change for our family, suddenly having a teenager to raise. There has been challenges, but mostly there has been great joy. Micheal has been able to maintain a relationship with his mom, and we get the honor of raising a wonderful young man.
Our Leisure Time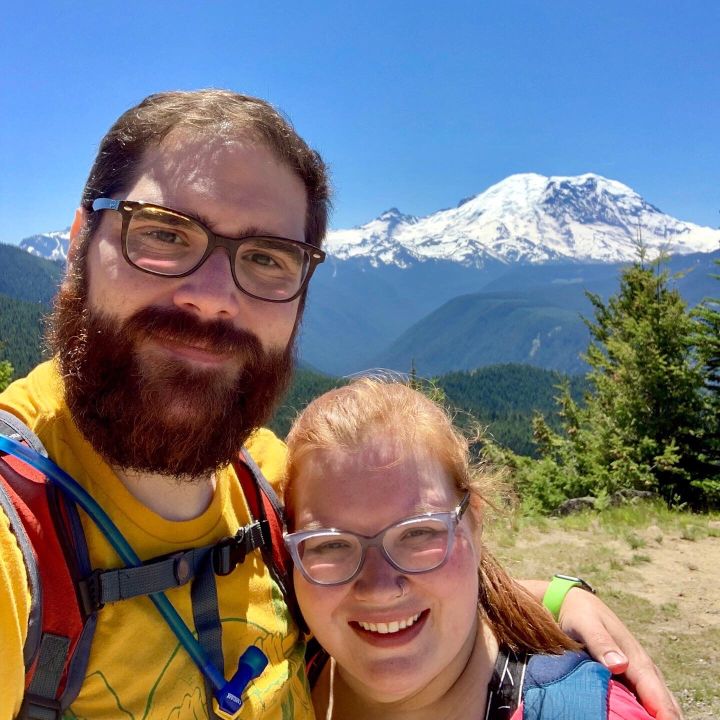 We have lots of hobbies that we enjoy together and generally lead very busy and full lives. We are avid board-gamers and regularly meet up with friends for board game or D&D nights. We love to hike and explore the outdoors. We live in a beautiful area with an abundance of nature to explore, including both forests and ocean beaches. We also love going on road trips and experiencing other cities and towns. Music is a big part of our lives as well- Ross plays bass and guitar, and Sarah plays the flute and is learning the ukulele.
In his free time, Ross loves to tinker with computers, 3-D printers, and making resin mini figures. He loves technology, building things, and figuring out how things work. He is also a big Marvel comic book fan, with a huge collection of memorabilia, art, and rare comics.
Sarah is an avid reader- she can spend a whole day on the couch enjoying a book. Sarah is also passionate about cooking and baking. She loves to create new and delicious things for the family. Sarah volunteers with a local Girl Scout alumni group where she goes out to a summer camp to work on the grounds or plan programming for kids.
We can't wait to share our passions with our child- nature, music, technology, reading, cooking, volunteering, or whatever new thing our child likes and wants to try! We want to raise our child to be adventurous and always have fun.
Our Pets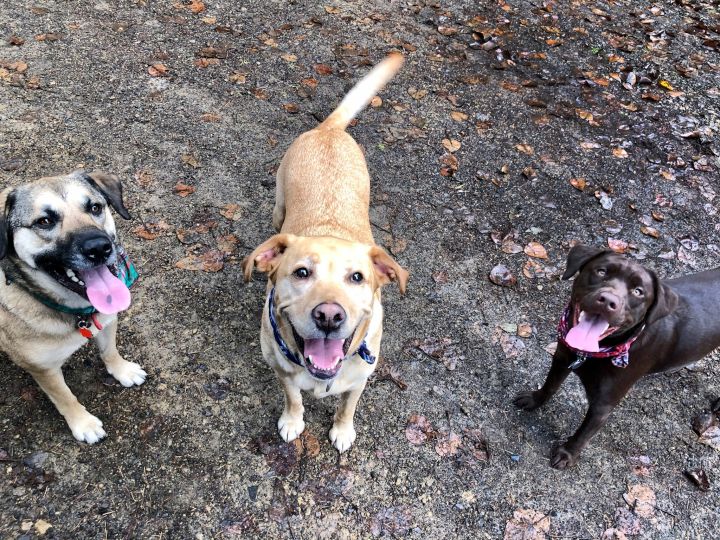 Our pets are a huge focal point of our lives. A big part of our relationship in the beginning was based on our mutual love of animals. Once we moved in together, we knew we needed to get a dog. We adopted our first puppy, Wallace, in 2015. Since then, we have gotten a larger home and we now have 3 dogs (Wallace, Dottie, and Molly), and a cat (Hugo). Our pets are so much fun! We love taking the dogs on adventures; we go hiking, camping, swimming at the lake, and we take them to the mountains to play in the snow. They help to keep us active, as they are a busy pack and love to be outside. They are also a wonderful source of calm for us. We love to snuggle up with them when we've had a tough day, and their unconditional loves makes them an irreplaceable part of our family.
Our youngest dog, Molly, is especially sweet and calming. Ross works in a high-stress environment, and he frequently takes Molly with him to work to bring some extra smiles to the office. Molly is so popular that his employees frequently request a visit from her!
Our nieces and nephews love to visit and play with our dogs. They know that the dogs are always gentle, even if the kids are a little rough. Our dogs are wonderful with kids, and we can't wait for them to meet our future child!
Photos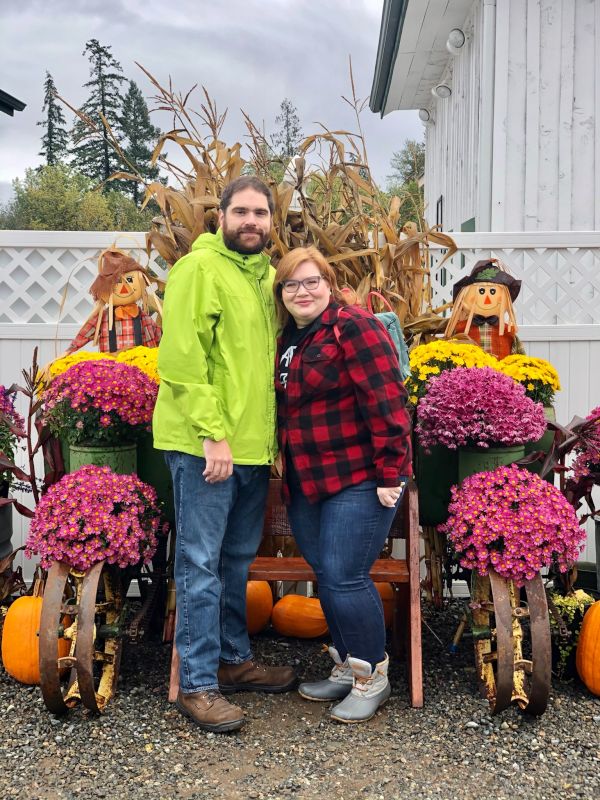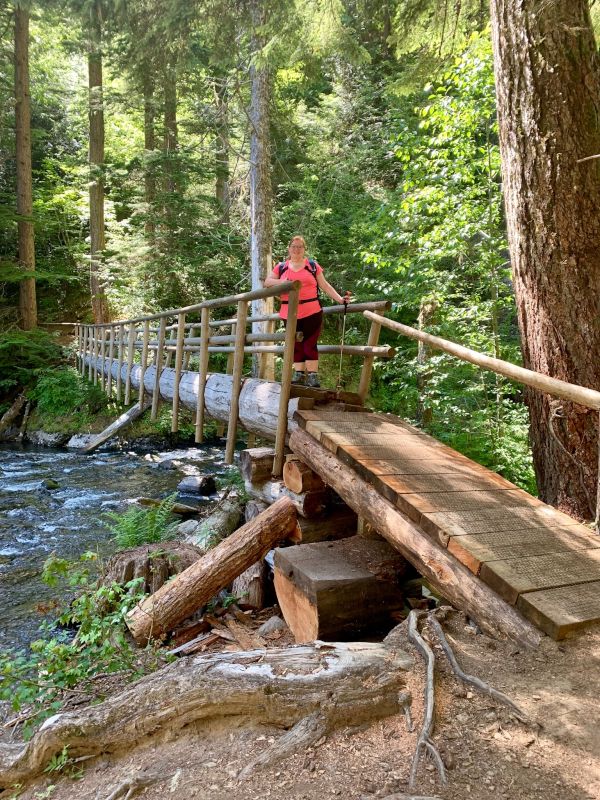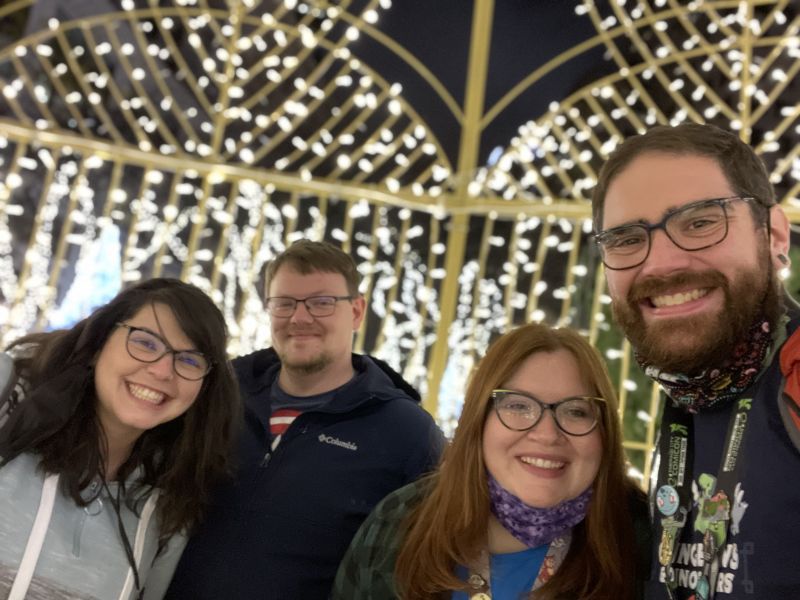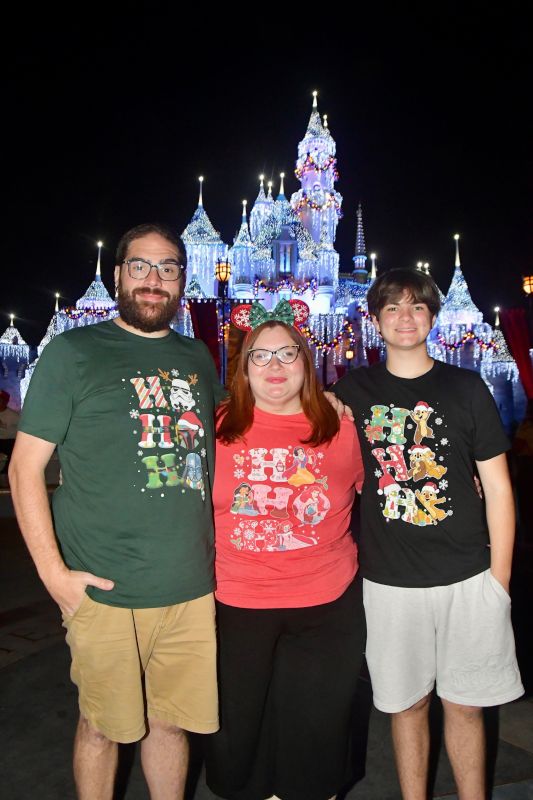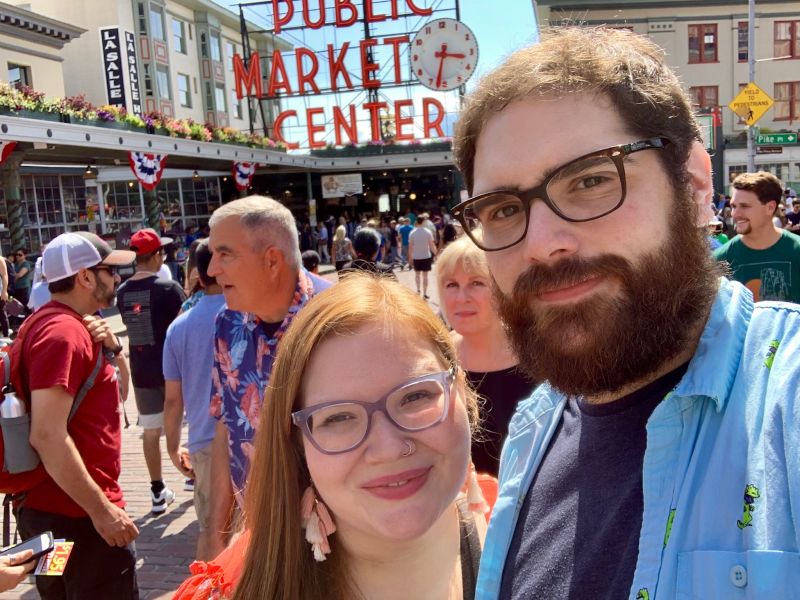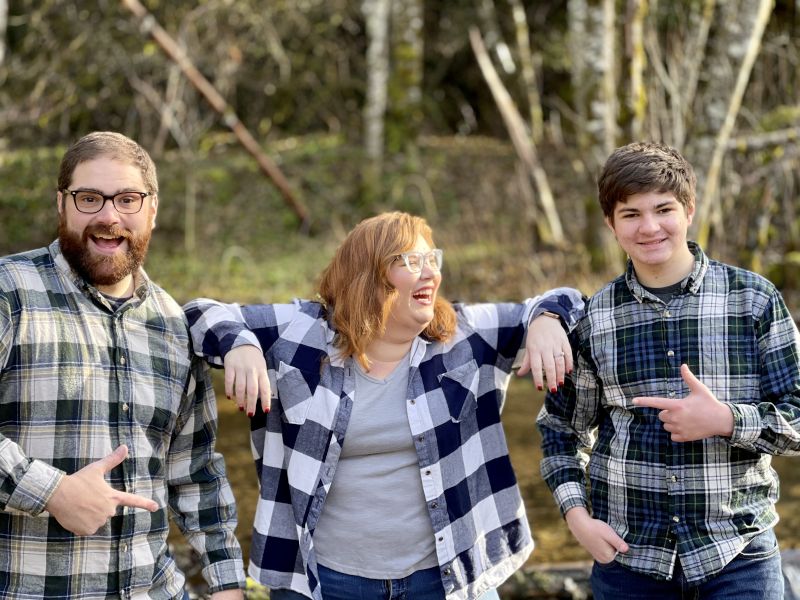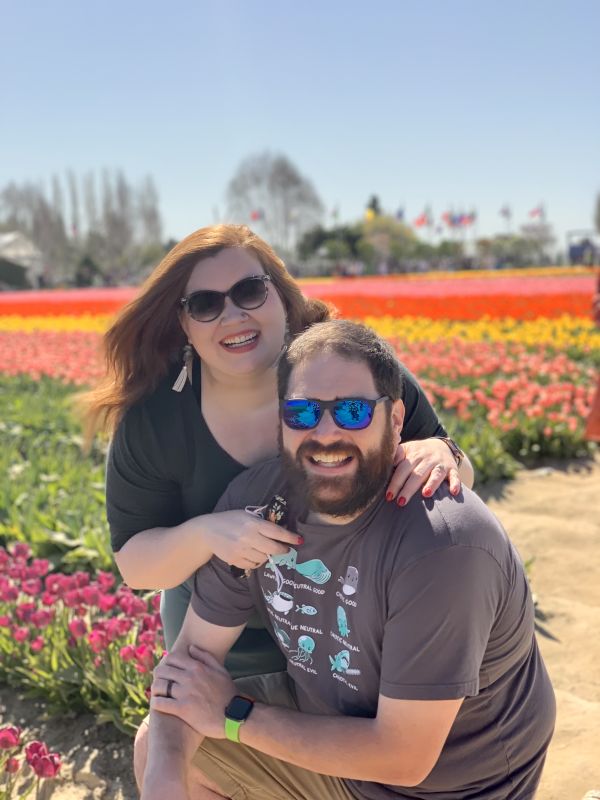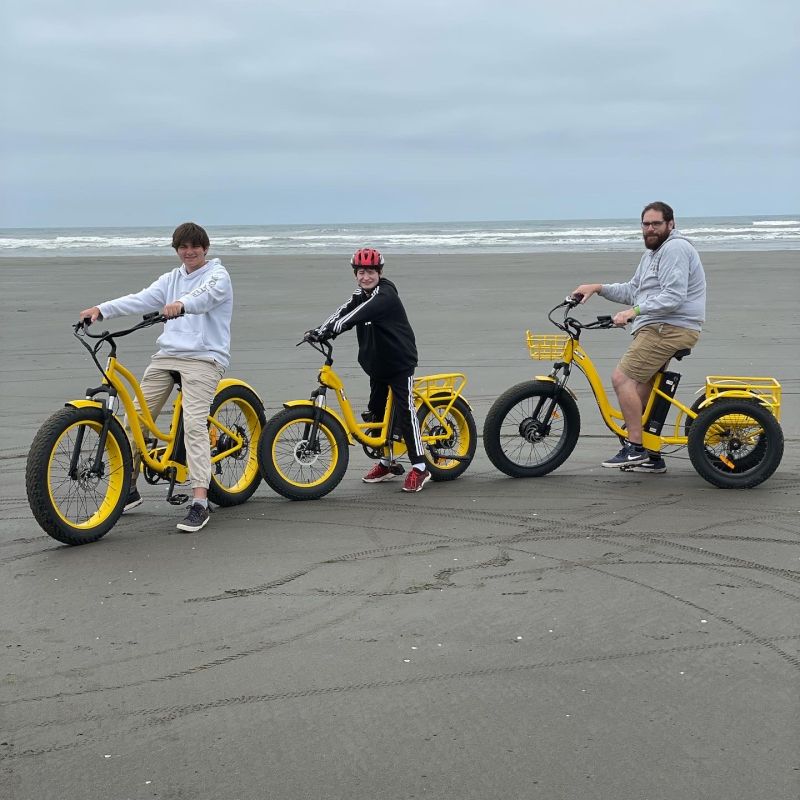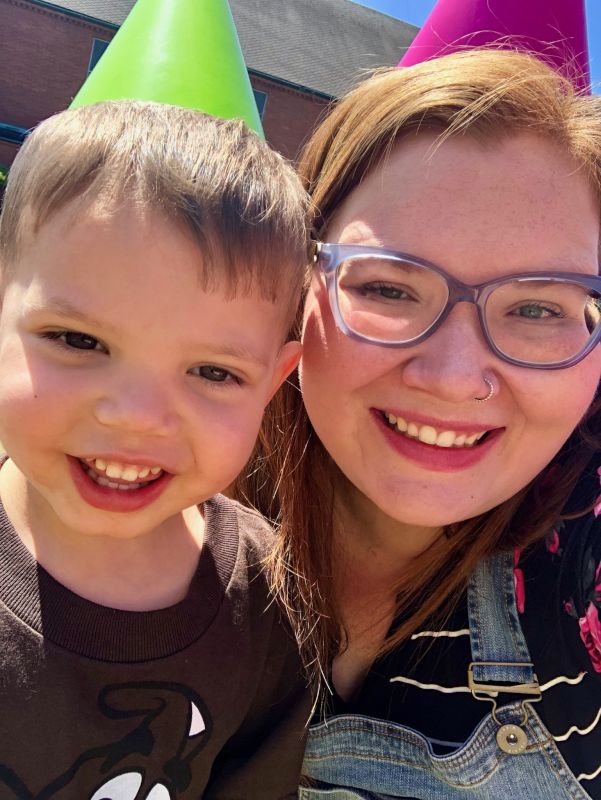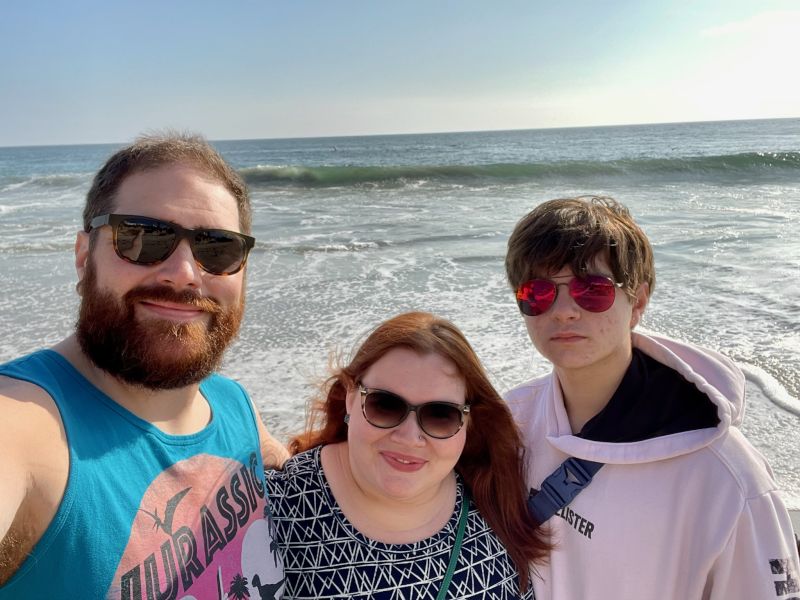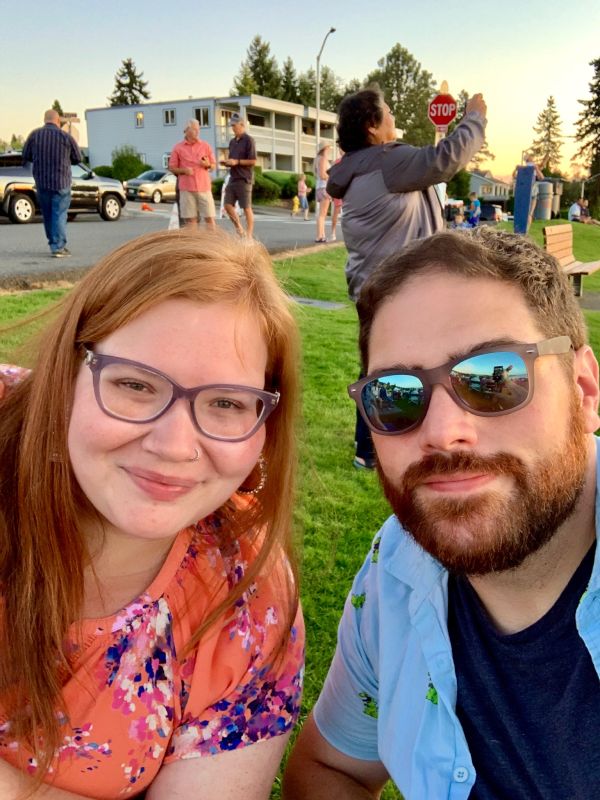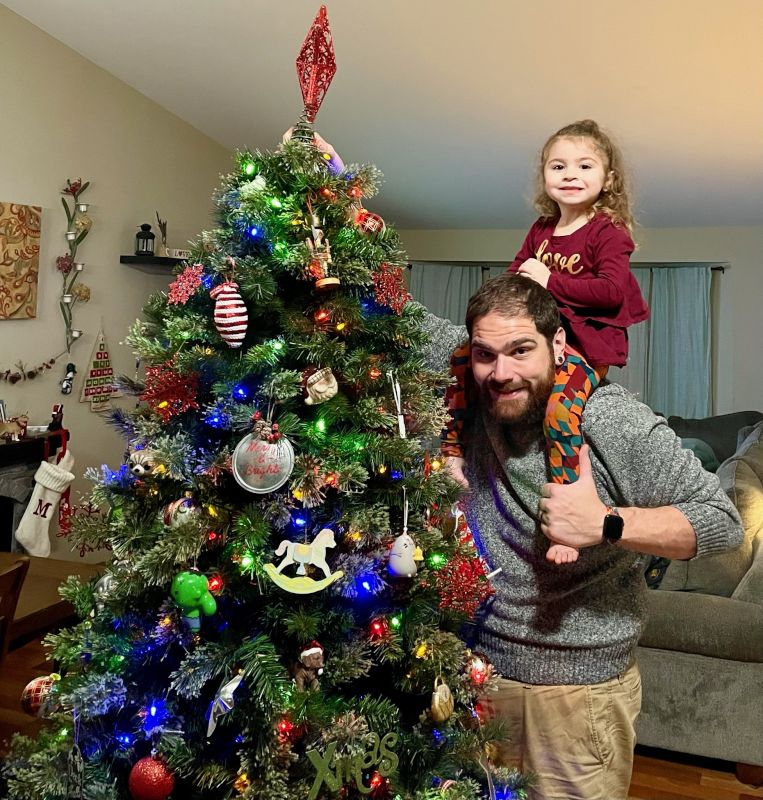 ×
1 / 12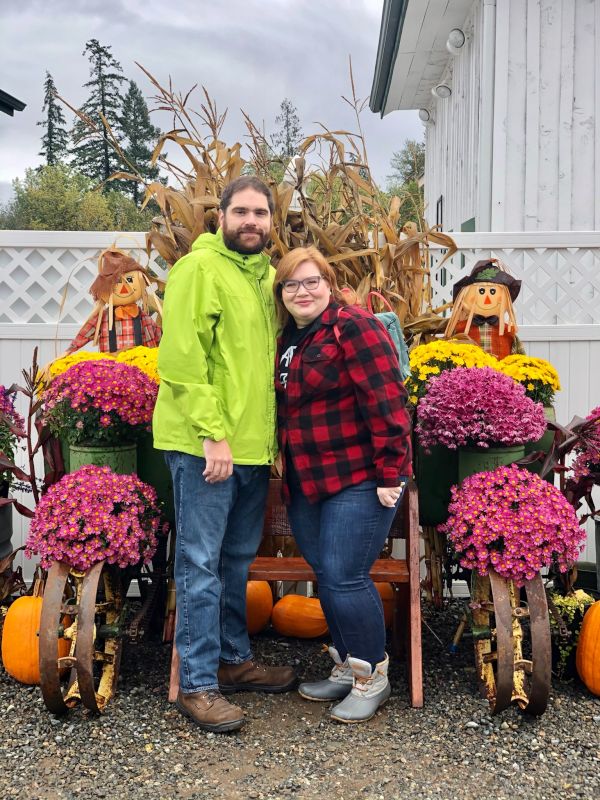 2 / 12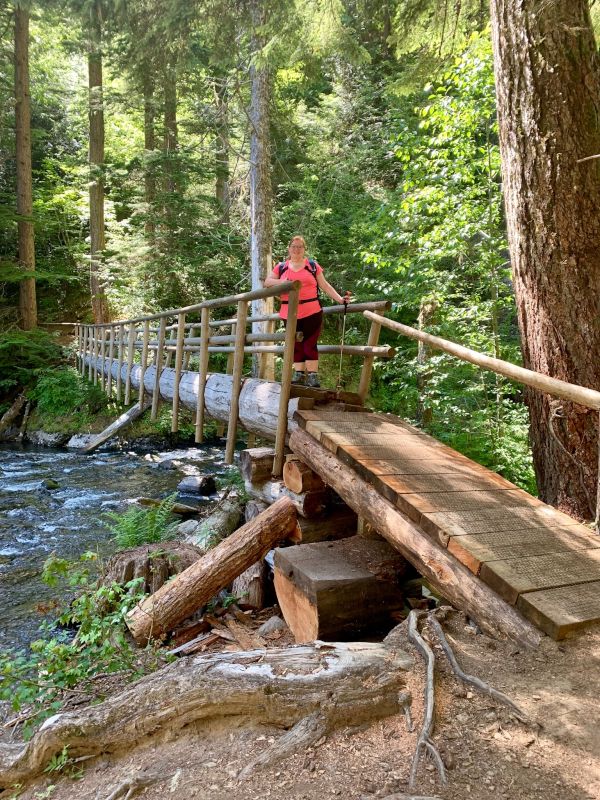 3 / 12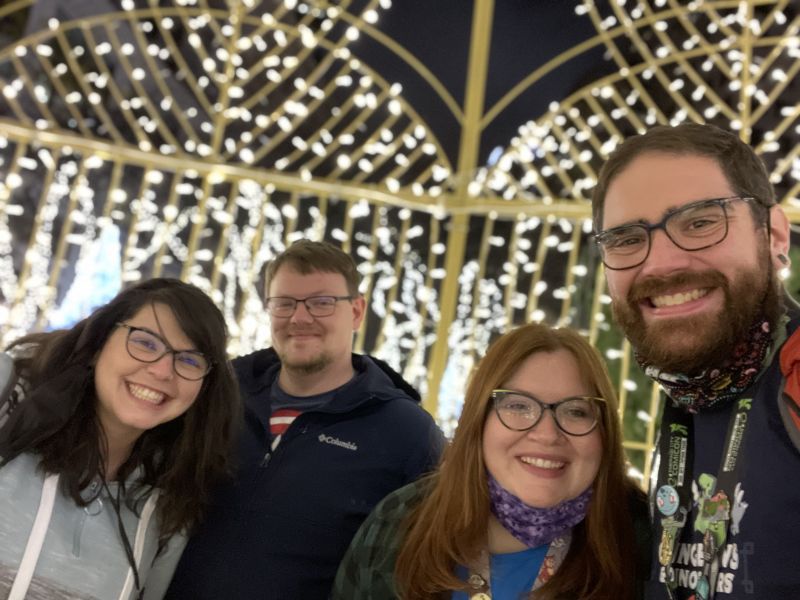 4 / 12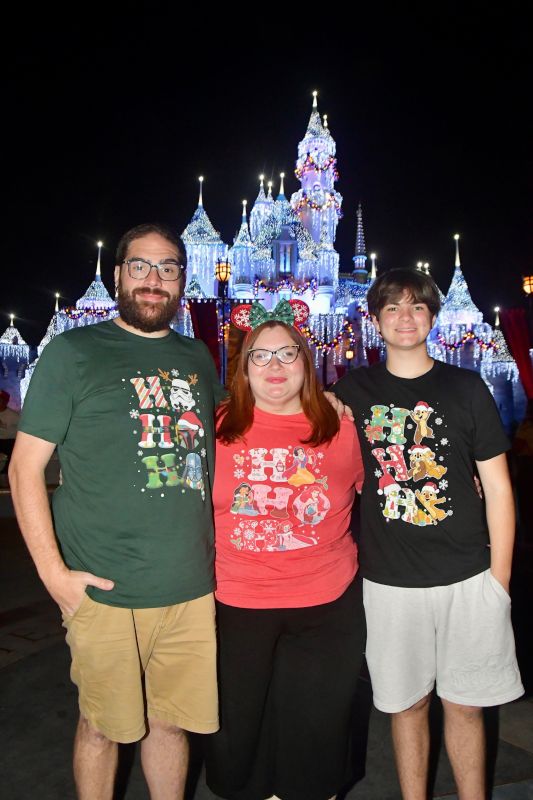 5 / 12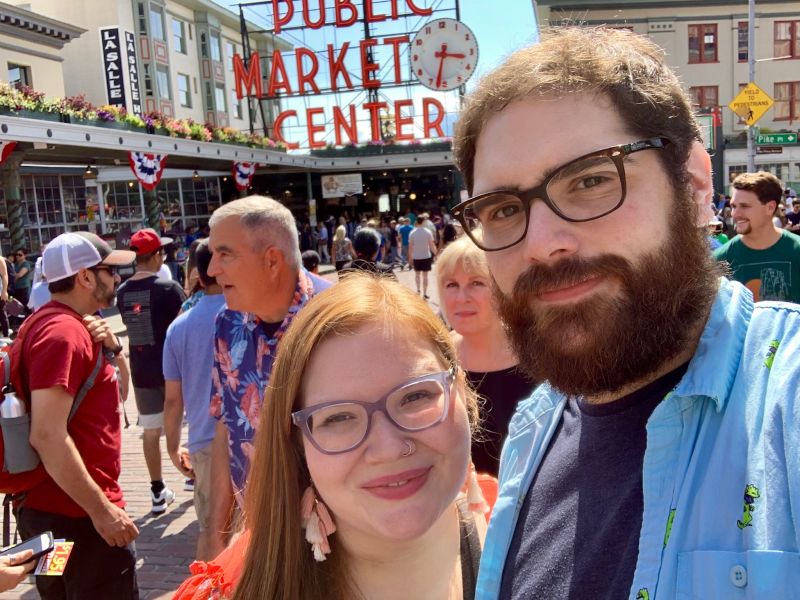 6 / 12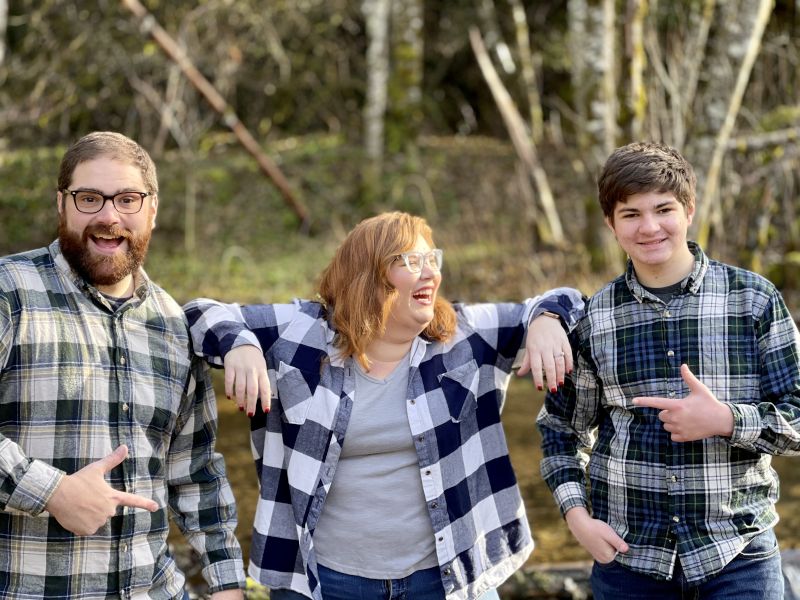 7 / 12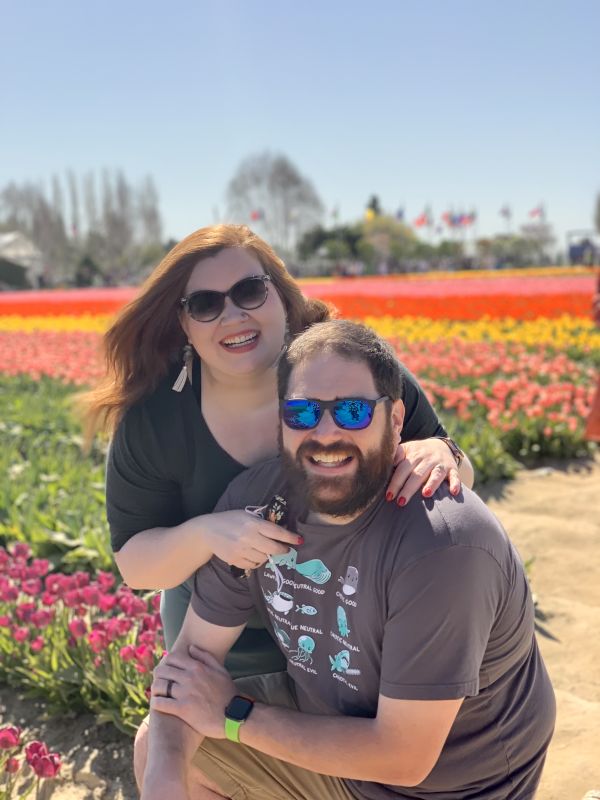 8 / 12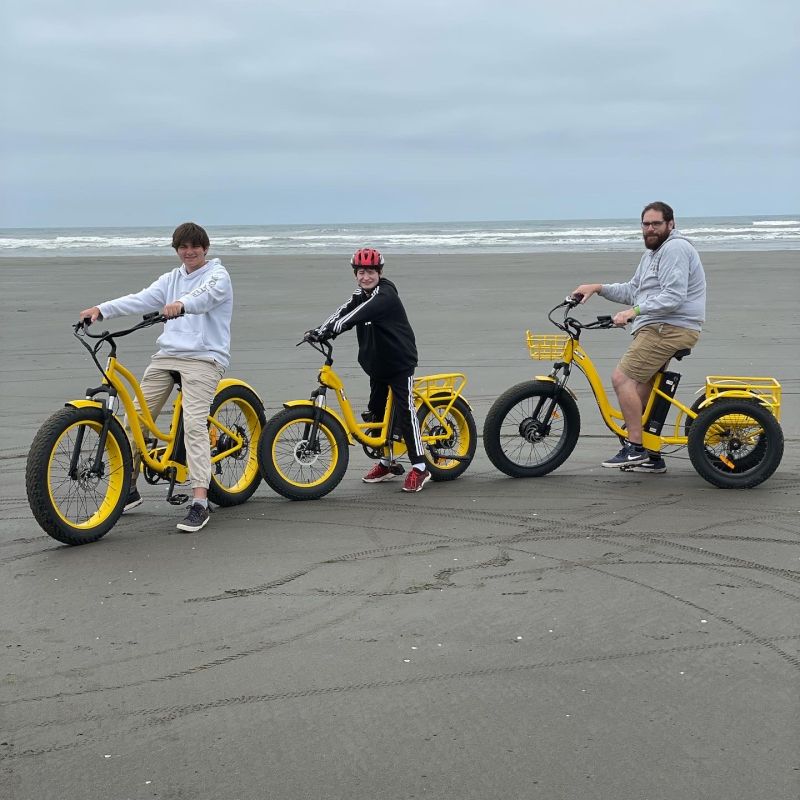 9 / 12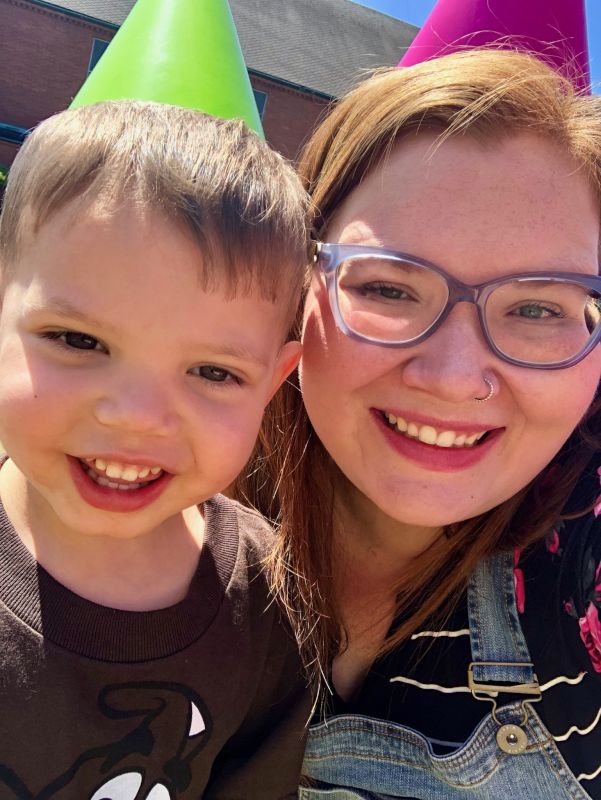 10 / 12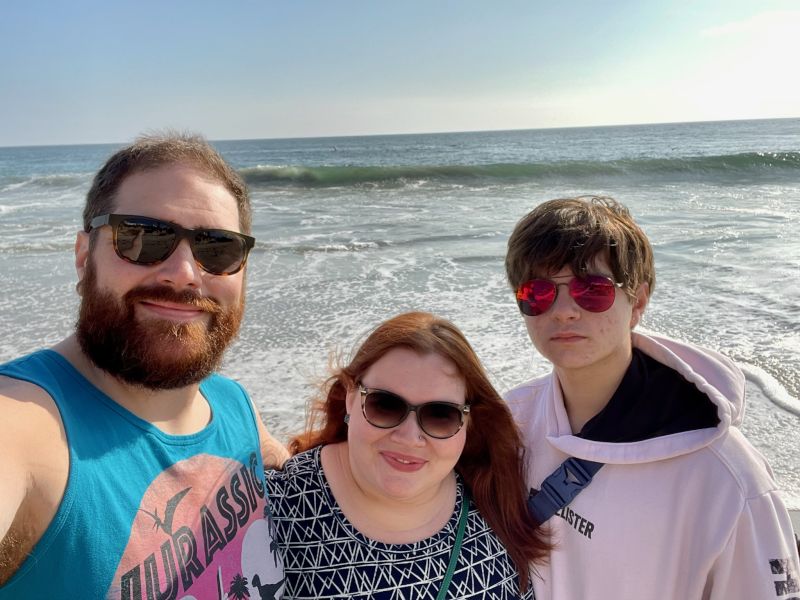 11 / 12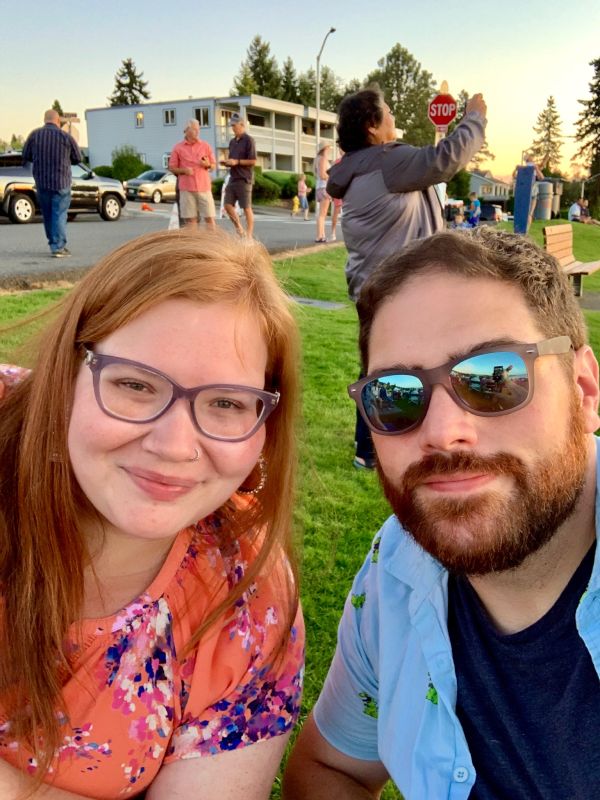 12 / 12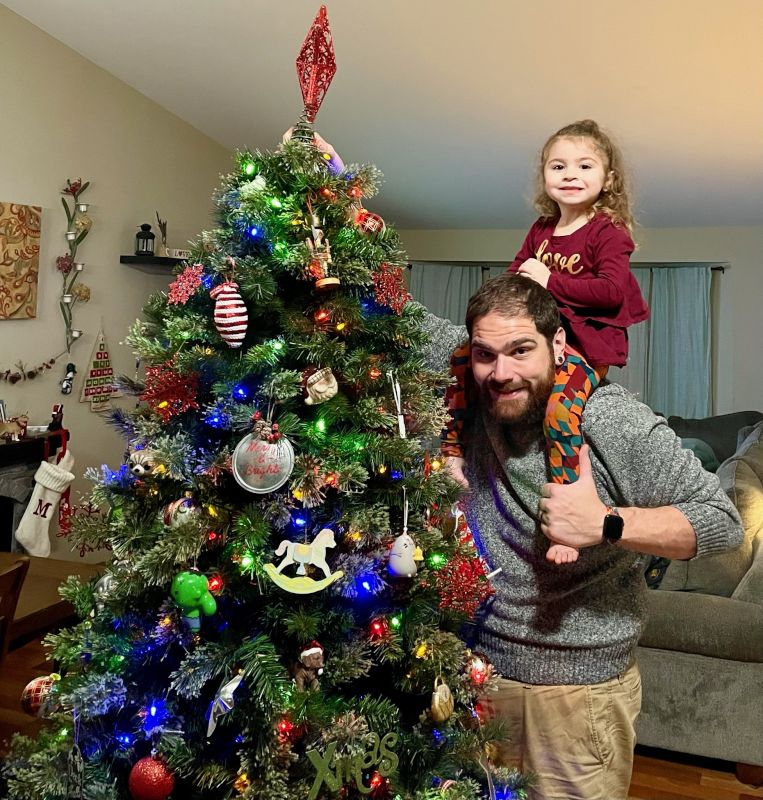 ❮
❯
Our House and Neighborhood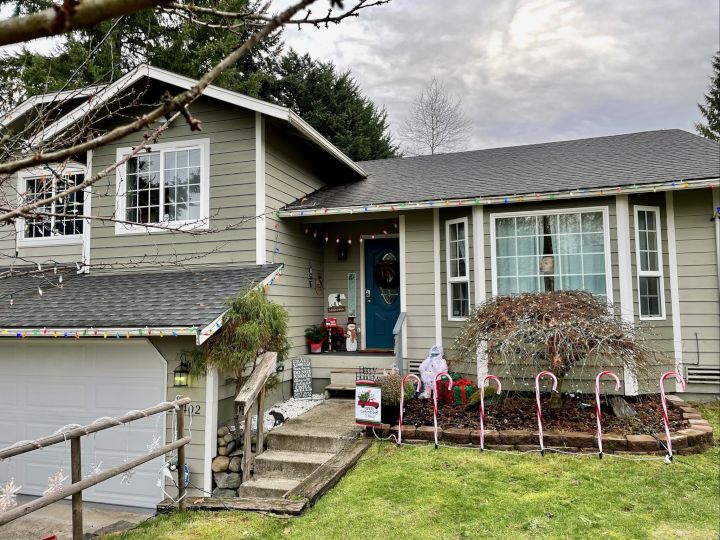 We are so happy to live in beautiful Washington state! We live in a small town surrounded by rural farming communities, but we are only 20 minutes from a large city. It is truly the best of both worlds. Our community boasts a beautiful view of Mount Rainier, a wonderful lake with a large public park, and a walking and biking trail that follows along a winding river. We love going for walks, biking, and spending time in nature. Our town hosts a weekly farmers market, a summer concert series, and holiday events. There are numerous local restaurants and coffee shops that we love to visit. We are members at our local YMCA; it has a pool and lots of children's programs.
We own a 3 bed, 2.5 bath in a quiet neighborhood. We have a spacious yard with fruit trees, a firepit, and a large deck where we enjoy entertaining. Sarah spends most summer days outside gardening and cooking! We also have our 3 dogs who love to run and play in the yard. Our favorite room in our house is the living room. We love to host parties and frequently have family movie or game nights. We enjoy many rainy Washington days snuggled up with our dogs in front of the fireplace.
Our Extended Families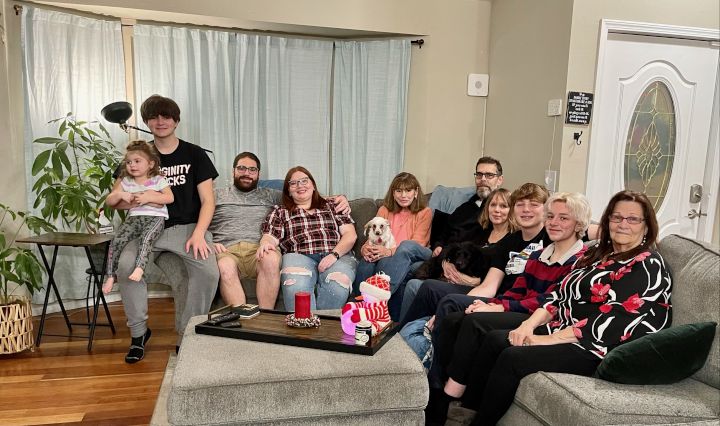 We are lucky to have a wonderful community of family and friends, both nearby and far away. Ross's mom and 3 siblings all live within a 40-minute drive of our home. We visit with them frequently. Ross's mom loves to come over to our house to cook, garden, and play games. Sarah's family is more spread out- she has an adult nephew and 3 nieces that live nearby. We love to take our nieces on adventures, like going hiking, playing in the snow, or visiting the zoo. Sarah's mom, two older siblings, and 3 nephews live in South Carolina. Sarah's sister owns a large goat and cattle farm. We look forward to frequently visiting the farm with our future child! We are also very connected with Sarah's extended family of aunts, uncles, and cousins. We are blessed to have such a large family!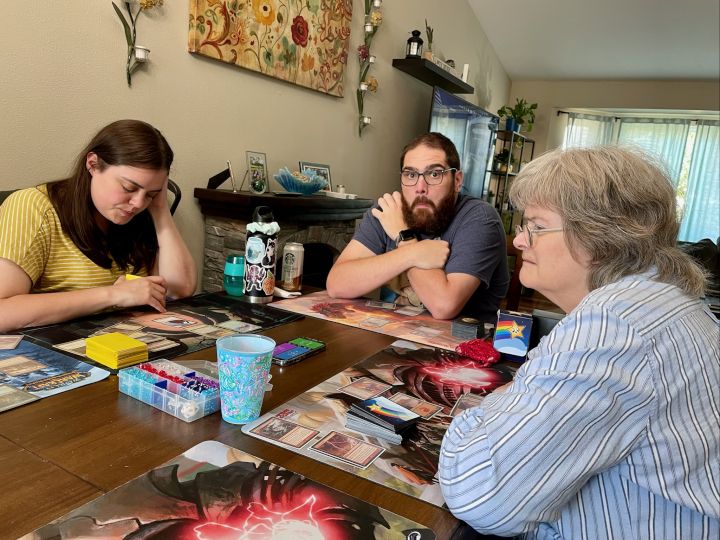 We also have what we call our "chosen family" nearby- a close knit group of friends who we love like siblings. One couple has two young children, our godchildren. We have a regular Friday game night where we cook a meal together and play a board game. These friends are also our frequent travel buddies- with trips to Disneyland, the California coast, camping, and mountain hiking.
Our family is excited and supportive of our adoption plan. They cannot wait to welcome a new addition to the family. Our child will be surrounded by love and have lots of other children to play with and learn from!
From Us to You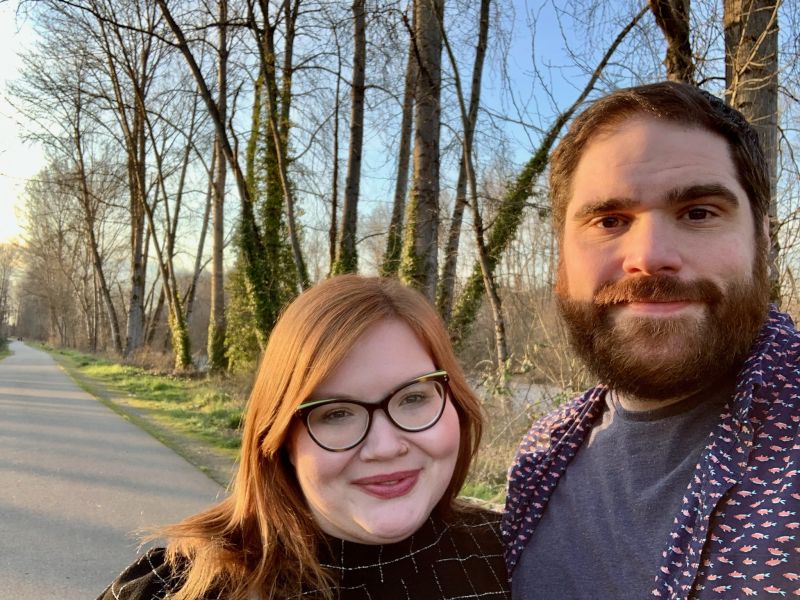 Hello,
We really appreciate you taking the time to read our letter. We know that this must be a challenging and confusing time, as you consider whether to move forward with an adoption plan. We respect the love and care that you are putting into this decision, and we know you want what is best for your child. Thank you for considering adoption as an option, and the possibility of giving us the gift of parenthood.
We are both excited and nervous to be on this adoption journey. We have been together for almost 9 years, and we were married in 2016. We are truly best friends, and we love our life and marriage so far. We have been trying to conceive since shortly after our wedding, but even with fertility treatments we have been unable to. Despite these roadblocks, we know that we are meant to be parents. We have so much love in our home that it is overflowing, and we can't wait to share that with a child.
We live in the beautiful Pacific Northwest, in a small town at the base of Mount Rainier. While our town is rural, we live within 20 minutes of both a large city and the beach. We both love our jobs. Ross is a major tech geek- he is an IT supervisor for a technology company and loves getting to problem solve all day. Sarah works with children. She has a master's degree in Early Childhood Education and was a preschool teacher for many years. She recently transitioned to a job with the state where she is continuing to support education systems. She loves having a job that allows her to help families!
While we are not officially parents yet, we have had the joy and honor of parenting our nephew Micheal since January 2020. He joined our home when he was 15, when his mother was facing some personal crises that did not allow her to give him a stable home. Having Micheal in our lives has been such an amazing journey. It has given us a small taste of what parenting will be like, and we are all so excited to grow our family further through adoption. Micheal can't wait to be a "bonus brother."
We have a wonderful extended family who is waiting with open arms for us to have a baby of our own. Ross's family, including his mother and 3 siblings, all live close by, and we spend a lot of time with them. Sarah's family is further away. Her mom and 2 siblings live in rural South Carolina. Her sister has a large farm, and it is truly an adventure every time we visit. We look forward to traveling with our future child and introducing them to true Southern farm life!
We both had wonderfully joyful childhoods, and we hope to give that same loving home environment to our future children. Sarah grew up in a small town with her mom; her grandparents and lots of cousins were always nearby. She has fond memories of learning to cook from her grandma, tending the vegetable garden with her grandpa, and spending summers at the family beach house with all her siblings and cousins. Sarah's mom was also a preschool teacher, so her home was always full of learning and laughter. Ross grew up in a large city, where he got to experience a wonderfully diverse childhood with lots of adventurous things to do. His dad and uncle cultivated his love of music- they had a basement full of every instrument imaginable, and spent their summers hosting block parties where they would play music together.
Family is extremely important to us. We know that once we adopt we will not only be adding a baby to our family, but also extending our family to include you as well. We are eager to share pictures and letters and exchange emails and phone calls. We hope that a natural relationship will form between us and you will be a continual presence in the child's life. We sincerely hope that you can feel how much we will love this child if you choose us as adoptive parents.
Ross & Sarah
Favorites
Actor
Robin Williams
Denzel Washington
Actress
Helen Mirren
Meryl Streep
Author
J.R.R. Tolkien
Ken Follett
Book
Hitchhikers Guide to the Galaxy
Harry Potter series
Candy Bar
Reese's Peanut Butter Cups
Almond Joy
Cartoon
Dexter's Lab
Scooby Doo
Childhood Memory
Visiting my grandparents' beach house
Childhood Toy
Nintendo
Pretend lawn mower (I called it my "mowie")
Children's Book
Where the Wild Things Are
Ella Enchanted
Classic Movie
Monty Python and The Holy Grail
The Sound of Music
Dessert
Cheesecake
Key lime pie
Dream Car
1967 Shelby GT500 Mustang
Tesla
Dream Job
Dog Rescue Owner
Broadway singer
Dream Vacation
Tour Across Europe
Wine and pasta tour of Italy
Family Activity
Playing Board Games
Family game night
Flower / Plant
Japanese Maple
Maple trees
Food
Cashews
Any kind of pasta
Form of Exercise
Cycling
Bicycling
Game
Terraforming Mars - Board Game
Monopoly
Hobby
3D Printing
Cooking/baking
Holiday
Christmas
Christmas
Holiday Song
I Want a Hippopotamus for Christmas
I Want a Hippopotamus for Christmas
Holiday Tradition
Going to the Pumpkin Patch and Carving Pumpkins
Cutting down our own Christmas tree
Ice Cream
Peanut Butter Cup
Mint chocolate chip
Junk Food
Pizza
Spicy chips
Leisure Activity
Painting Miniatures
Reading
Magazine
Popular Mechanics
Memory with a Child
Taking our nephew to Disneyland for the first time
Memory with Spouse
The day we got our first puppy
Movie
Avengers
Little Women
Movie Munchie
Reese's Pieces
Junior Mints
Movie Quote
"Not all those who wander are lost" - Bilbo Baggins
Nursery Rhyme
Itsy Bitsy Spider
Olympic Event
Cycling
Gymnastics
Personal Hero
My grandmother
Play
Death of a Salesman
The Tempest
Quality about my Spouse
How she is willing to help anyone in need and care about others.
His thoughtfulness- he is always kind and thinks of others first
Restaurant
Din Tai Fung
The Melting Pot
Sandwich
Roast Beef & Provolone
Anything spicy!
Shopping Store
Target
Home Goods
Song
Good Day Sunshine - The Beatles
"Don't Stop Me Now" by Queen
Sport to Play
Baseball
Softball
Sport to Watch
Baseball
Baseball
Sports Team
Seattle Mariners
Subject in School
Science
English
Thing to Cook
Grilled Cheese
Cake
Time of Day
Late Afternoon
Evening
Tradition
Making fresh hand-churned ice cream on the 4th of July
TV Show
Parks and Recreation
Parks and Recreation
TV Show Character
Dwight Schrute - The Office
Type of Music
Classic Rock
Vacation Spot
Ocean Shores WA
Video Game
Age of Empires
The Elder Scrolls: Skyrim
Get in Touch
Provide more information, so American Adoptions can connect you with this family.
---